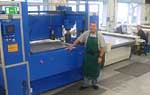 The box-making area
at the Library.
Boxing material using computerised box-making machines has been established at the National Library of Scotland since 1996.
This has proved to be an extremely cost-effective method of producing made-to-measure boxboard enclosures.
In 2009 we introduced a die-cutting machine, allowing us to mass-produce file boxes, serial boxes and newspaper boxes.
Protective enclosures
Box production using this methodology is now well established as a preservation measure, providing protection for items in storage and during transit within the Library.
Additionally, boxes provide substantial, although not necessarily total, protection against accidental or intentional release of water, which may threaten the items housed in a box. It does so at a low unit cost with no interference to the original form.
Often an item can be held safely in a box without more expensive conservation treatment being applied.