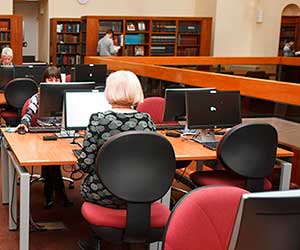 The General Reading Room in our
George IV Bridge building
Legal deposit is the lifeblood of the National Library of Scotland, bringing thousands of items into the national collections every week.
It is the reason for the depth and breadth of coverage in our collection of over 20 million printed and electronic publications. We are therefore likely to have a book, pamphlet, journal, newspaper, magazine, report, article, or e-book on every conceivable topic.
Through legal deposit legislation, we also receive official publications from government bodies and can provide access to millions of archived UK domain websites.
Legal deposit material can help with your research, your creative projects or your business, and stimulate new ideas. You can access the full range of material in our Edinburgh reading rooms if you have a library card. In our Kelvin Hall premises in Glasgow, you can consult the electronic material without joining the Library.
What it means if you're a Library member
As a member of one of the UK's legal deposit libraries, you have access on the National Library of Scotland's premises to the nation's published output. This represents millions of items covering a vast and diverse range of subjects which can help you with your area of interest.
The legal deposit libraries work together to ensure the long term preservation of UK publications in print and digital form. They ensure that publications are held securely and that they can be discovered and accessed by their members.
Find out more in our guide to using legal deposit material.
What it means if you're a publisher
Under the terms of legal deposit, publishers have a statutory obligation to deposit a copy of every publication produced in the UK or Ireland, free of charge, at the UK legal deposit libraries.
Legal deposit helps ensure that the published output of the nation is collected systematically and preserved for future generations. While legal deposit places an obligation on publishers to deposit publications, it also brings significant benefits to authors, publishers, researchers and the general public.
Find out more about what is covered by legal deposit and how to send us your publications in the guide for publishers.
Legal deposit legislation
The legislation governing UK legal deposit is the Legal Deposit Libraries Act 2003. This Act, and the reciprocal Irish Copyright and Related Rights Act 2000, allows the legal deposit libraries to receive a copy of any work published in the UK or Ireland. The Legal Deposit Libraries (Non-Print) Regulations 2013 extended the legal deposit privilege to include electronic publications.
Although these Acts are relatively recent, legal deposit has existed in Scotland since 1710 when the privilege was first granted to the Advocates Library. In 1925 an Act of Parliament established the National Library of Scotland, and the Advocates Library collections were transferred to form the foundation of our collections.
Contact us
If you have an enquiry about legal deposit, contact:
Acquisitions Team — Legal Deposit
National Library of Scotland
92 Cowgate
Edinburgh
EH1 1JN
Tel: 0131 623 3936
Email: legal-deposit-enquiries@nls.uk.
If you have a question about photocopying or reproducing copyright material, or about access to items in the Library's collections, contact the Enquiries Team — phone 0131 623 3700 ext 3820 or email: enquiries@nls.uk.
Additional