Welcome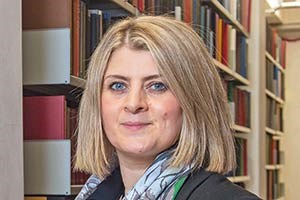 National Librarian and Chief Executive
Officer, Amina Shah.
I was delighted to take on the role of National Librarian last year, and I'm proud of all we've achieved since then. As pandemic restrictions eased, we increased access to our buildings and collections, all while ensuring people's safety in line with government guidelines. Some of our projects were unavoidably delayed but it was truly amazing to see what we achieved as Covid curbs were lifted.
We launched 'Treasures of the National Library of Scotland' in March – our permanent exhibition which opens a window to the fascinating stories behind the national collections. It features everything from early printed books and video installations to maps, medieval manuscripts, passports and letters. For anyone who cannot make it to Edinburgh, we released a series of short films and podcasts to complement the exhibition – all available on our website.
Throughout 2021 we continued to engage people with online and on-site activities. One highlight from the summer was a series of online events promoting our 'Fresh Ink' initiative – when we invited emerging writers to respond to the year 2020. We commissioned 10 writers out of hundreds of applicants and the results were outstanding. We published the works on our website and added them to our prestigious literary archives, where they will be preserved into perpetuity.
Our events programme continued online although I'm thrilled to say we have now resumed our on-site events and learning programmes.
Our first on-site exhibition following the pandemic lockdowns, 'Petticoats and Pinnacles', opened in July 2021 and told the inspiring story of Scotland's pioneering mountain women. The outstanding content, displays and stories met with highly positive reviews for the entire duration. The exhibition ended in May 2022. Now on show is 'Pen Names' – an intriguing exhibition exploring why some writers prefer to be published under an alias. Those featured include George Eliot, Lewis Grassic Gibbon and Josephine Tey.
The climate crisis is an increasing concern and we have been working hard to play our role in addressing this emergency – including practical efforts at our buildings and providing information to the public. Detailed in this review is the launch of our 'Climate Action Plan', which covers changes to our buildings and practices, as well as our engagement activity. Just before Glasgow hosted the UN COP26 climate summit, we released 'Living Proof: A Climate Story', directed by our own Dr Emily Munro and using archive footage from our collections. As restrictions eased, the film was screened at venues throughout Scotland.
We also took part in a UK-wide fundraising effort to save national literary treasures from falling back into private hands. Led by the Friends of the National Libraries, we secured the funds to purchase what is now known as the Blavatnik Honresfield Library. Together with our Scottish partners Abbotsford and the National Trust for Scotland, we are thrilled that this generous support has enabled works of such huge cultural importance from Scotland's most iconic writers to be saved. These include works by Robert Burns and Sir Walter Scott.
Throughout the year we have had many staff changes, with some people retiring to start a new chapter and others joining us in a variety of roles. Sir Drummond Bone was appointed Chair of the National Library of Scotland and we are thrilled to have someone with such rich leadership experience and expertise head our Board. We also welcomed three new board members – Alison Kidd, Robert Kilpatrick and Kirsty Lingstadt. Their collective experience is most welcome.
I have mentioned a few highlights of the past year but there are many more important projects and initiatives under way to ensure that we collect, protect and share our collections.
I could not end without thanking our talented team of staff and, of course, our donors, patrons and supporters who help make our work happen, grow and continue through their support.
Amina Shah
National Librarian and Chief Executive
Safeguarding collections
Acquisitions
'Chronicle of Fortingall', 1554–1579
This highly significant manuscript – which we acquired at auction in May 2021 – was compiled in Fortingall, Perthshire, in the Middle Ages and contains annals, poetry and short texts in Latin, Scots and Gaelic. It is also an important source for the history of the Highlands. The scribes of the manuscript belonged to the MacGregor family, who also compiled the 'Book of Dean of Lismore' – the earliest surviving collection of Gaelic poetry compiled in Scotland.
The 'Chronicle of Fortingall' is a significant addition to our Scottish Gaelic manuscripts collection, which is the largest in the world. Securing this document for the national collections means we can make the contents publicly accessible and ensure its preservation. This acquisition was made possible with generous support from the Friends of the National Libraries, the Magnus and Janet Soutar Trust, the B.H. Breslauer Foundation and the Leckie Family Charitable Trust.
'Perdendosi', by Edinburgh photographer Norman McBeath
We bought one of a limited edition of 25 portfolios featuring McBeath's series called 'Perdendosi' – named after a musical term which describes a gradual dying away of sound.
During lockdown, McBeath started taking photographs of dying leaves he found in and around Edinburgh and shared them with poet Edmund de Waal, who wrote personal responses to the images. The work demonstrates the high production values of its publisher, Easel Press. It is printed on individual 308gsm Hahnemuhle Matt Fine Art Smooth Photo Rag and in Sem Hartz's Juliana typeface, set by Dalrymple
Accounts of First World War nurses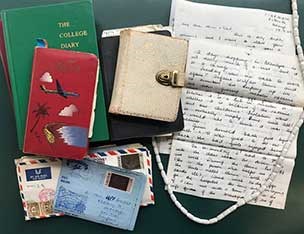 Two books from the First World War, both compiled by nurses serving at Scottish hospitals, have been added to our collections.
The first, by Margaret Adair Duncan, a nurse at Bangour Military Hospital in West Lothian, was donated by her daughter. The other, by Rose Willison, a nurse at Stobhill Hospital in north Glasgow, was acquired from a bookseller in Canada.
Through sketches, poems and dedications, these autobiographical works offer a view of the life of young nurses during this period and complement our existing First World War archival collections, which predominately depict the male experience.
Annotated photograph albums of the rock climbing and mountaineering activities of Harry MacRobert, 1898–1945
These albums were donated to us in November 2021 and offer insight into climbing in the late 19th and early 20th centuries, detailing the activity itself, clothing and equipment involved – and the joy and hardships of the sport. The albums record climbs in Scotland, England, Wales and the Alps.
Dance club ephemera
As Scotland's national Library, we are also a legal deposit library – one of six libraries with the right to request a copy of any book (or pamphlet, magazine, newspaper, map, etcetera) published in the UK and Ireland. However, some items can still slip through the net and we identified a gap when it comes to nightclub culture in Scotland, particularly the rave and electronic dance music club scene.
We have now acquired more than 300 flyers and posters that document the scene from the mid-1990s. Apart from the information and interesting use of graphics provided, this acquisition also fills a genuine gap in our collections that speaks to an important sociological moment in recent Scottish culture.
'Psalms of David in meeter', Edinburgh: Andro Anderson, 1667 (image No.3)
Andro Anderson was Printer to the Town and College of Edinburgh and King's Printer when he produced two editions of the Psalms in 1667. Only one edition, printed by "A A for J Miller", had been known until now. This is the only known copy of the other, unrecorded edition, which spells out the printer's name in full. This is not a reissue with a different title page, but a different edition altogether. This tiny book measures only 9.5cm by 5cm and has a green and white glass beadwork wrapper, indicating that it probably meant a lot to its owner. However, the printing is older than the binding.
Illustrated manuscript of a coastal survey of the North Coast of Scotland
This survey was undertaken by Captain Henry Charles Otter, R N, in 1844 and describes in detail the coastline from Thurso to Cape Wrath.
In addition to advising on safe anchorages and prevailing winds, Otter notes the local land, economy, and wildlife – "wild fowl in great numbers ... it abounds in Trout and Pike". This detail allows for insight into communities in the north of Scotland during the 19th century. The volume also includes four beautiful pencil and watercolour illustrations of the coastline and surrounding area.
Charlotte Lennox, 'Shakespear Illustrated: or the Novels and Histories, on which the Plays of Shakespear Are Founded', London
Charlotte Lennox, née Ramsay (circa 1730–4 January 1804), was a Scottish novelist, playwright and poet who is best known as the author of 'The Female Quixote' and for her association with some of the leading male literary figures of the 18th century.
Her investigation into the sources of Shakespeare's plays is seen by many scholars as the first feminist work of literary criticism and is recognised as a milestone in the historical interpretation of vernacular literature. Her main criticism is that his plays strip female characters of their original authority.
Two volumes were published, anonymously, in 1753, with a companion volume published in 1754.
Thank you for helping us bring the Bards home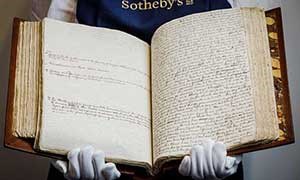 Image courtsey of Sotheby's.
We were delighted to play a part – together with many literary organisations across the UK, including the National Trust for Scotland and Abbotsford – to save the enigmatic Honresfield Library from being parcelled off and sold into private hands.
After an ambitious fundraising campaign to raise £15 million, led by the Friends of the National Libraries (FNL), the purchase was completed at the end of 2021. Since then we have been working with Sotheby's and the consortium to arrange the distribution of the items to their final homes in institutions across the UK. We wanted to take this opportunity to acknowledge the tremendous generosity of the FNL and the many patrons, trusts, supporters and readers who donated to our 'Bring the Bards Home' appeal, including supporters overseas, in particular in the US.
Acknowledging the generous lead donation from the Blavatnik Family Foundation to the FNL's campaign, the collection is now called the Blavatnik Honresfield Library. It is a treasure trove of items unseen by the public for almost a century – comprising of priceless manuscripts, rare editions and irreplaceable letters by some of the world's most renowned authors. Key items relating to Scotland include Robert Burns's 'First Commonplace Book', which contains some of his earliest recorded literary works in his own hand, as well as individual autograph poems ('Cessnock Bank' and the 'Brigs of Ayr') and some of the poet's earliest correspondence, including the only extant letter to his beloved father.
Other Scottish material of huge importance is the complete working manuscript of Sir Walter Scott's iconic novel 'Rob Roy', part of the autographed manuscript of Scott's verse romance, 'The Lay of the Last Minstrel', his travel journal of an expedition off the Scottish coast in 1814, a copy of 'Border Antiquities' with extensive manuscript revisions, and an exceptional group of Scott editions in their original condition.
The Honresfield Library was created towards the end of the 19th century by William Law (1836–1901), a Rochdale mill owner who created an exceptional collection of English and Scottish manuscripts and printed books which had the Brontës at its heart, as well as manuscripts in the hands of Jane Austen, Robert Burns and Sir Walter Scott, plus a significant collection of printed books. The collection changed hands several times and was thought lost. Only a few scholars have seen it over the past 80 years and it has been largely inaccessible in that time.
When the Honresfield Library came up for sale in 2021, it was feared that the collection would be split up and sold overseas, and back into private hands. But thanks to the support of thousands of individuals, trusts and grant givers, it has been saved for the public.
'Rob Roy', along with dozens of letters and early printed editions relating to Scott, will be owned by and housed at the Library. Many letters in Burns's hand will also come to us, as will his 'First Commonplace Book'. This will be jointly owned with the National Trust for Scotland. We are also getting a first edition of 'Robinson Crusoe', a first edition of Francis Bacon's essays and works by Mary Wollstonecraft.
At the time of writing, we have yet to receive the items, but we are greatly looking forward to doing so. In the coming months there will be plenty of work taking place behind the scenes, from conservation and cataloguing to digitisation, and planning for engagement activities. We look forward to sharing our plans or public viewing of the star items.
Treasure trove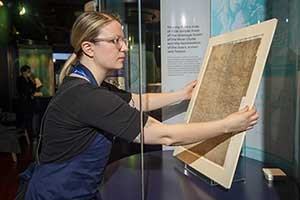 Our new permanent exhibition, 'Treasures of the National Library of Scotland', has been a mammoth undertaking and labour of love – but the results speak for themselves. This innovative, interactive exhibition offers visitors unique and engaging insights into Scotland's history, culture and people.
'Treasures of the National Library of Scotland' is one of the most ambitious, impressive and interactive exhibitions we have ever staged – a showcase of the exquisite national treasures that form our collections.
From a complete copy of the 15th-century Gutenberg Bible – one of only 48 known to exist – to a love letter by Robert Burns featuring 'Ae Fond Kiss', a handwritten letter by Charles Darwin and one of the earliest colour films made in Scotland, 'Treasures' provides a unique and fascinating insight into Scotland's history, culture and people – and the nation's place in the world.
The Library is the keeper of the national memory, so preserving and protecting the ideas and innovation, creativity and social change from the past and present is a priority. 'Treasures' – which opened on 25 March 2022 – spans centuries of examples of the inventiveness, imagination and ingenuity of Scotland and all of the people who live here. The installation of the exhibition has been a collective achievement for us – and a first in terms of scale and ambition.
With a five-year display cycle and regularly rotating exhibits, 'Treasures' is unlike any of our other exhibitions. It is also a celebration of all we can achieve when we work collaboratively. As well as the rare books and letters, medieval manuscripts, maps and early sound and film on display, the exhibition also features new work, thanks to a partnership with Neu! Reekie! creatives. Artists involved include Kapka Kassabova, Harry Josephine Giles, Hannah Lavery, David Kinloch, George Gunn, Kevin Williamson, Meg Bateman, Miriam Gamble, Emma Pollock, Nadine Aisha Jassat and Mark Cousins. They responded to the exhibits by creating poetry, prose, song and film, with their work displayed in an interactive space as part of the exhibition. Films about each artist and their process can be viewed at nls.uk/treasures/neu-treasures. 
Through establishing such relationships with key cultural partners and communities in Edinburgh and Scotland, we hope that 'Treasures' will help to extend our reach and welcome new audiences to enjoy our spaces, services and collections.
To mark the opening of 'Treasures', we released a special series of podcasts, hosted by broadcaster and comedian Julia Sutherland, in which we asked some of Scotland's national treasures to discuss their favourite items from the exhibition. In the episodes, our guests reveal why they found certain objects, collections and artefacts so fascinating. They also explore the historical significance of the items to the country, and how that resonates with them personally.
The episodes feature guests including broadcaster Grant Stott, comedian and 'Still Game' star Sanjeev Kohli, former Makar and poet Liz Lochhead, writer and broadcaster Damian Barr and former Scotland international footballer Leanne Crichton.
Grant tells how, as a music lover, he appreciates the wax cylinders, while Sanjeev is impressed the "special" plan of the Battle of Culloden and our copy of the Gutenberg Bible, describing it as representing "the start of the information age".
Liz tells how she grew up reading the works of Robert Burns, so is thrilled to see the handwritten manuscript of 'Ae Fond Kiss', describing it as "probably the most romantic song ever written".
You can listen to the podcast episodes at nls.uk/treasures/podcast.
Highlights of the exhibition
Robert Burns's 'Ae Fond Kiss' letter' – Ae Fond Kiss' is one of the best-known love songs by Burns (1759–1796) and is included in this heartfelt, handwritten love letter to Mrs Agnes Maclehose (1758–1841) – the 'Nancy' of his poem. We are among the world's leading collectors of Burns books and manuscripts.
The Iona Psalter – This medieval masterpiece is truly exquisite. The highly decorated, devotional text is believed to have been made for Bethóc, the first Prioress of Iona, in the 13th century. It is believed to have been compiled in Oxford, which was a hub for manuscript production in the Middle Ages. Iona is considered the birthplace of Christianity in Scotland, after the arrival of St Columba on the island from Ireland in 563.
Darwin's letter – This handwritten letter from Charles Darwin (1809–1882) to his publisher John Murray outlines the chapters of 'On the Origin of Species' – Darwin's ground-breaking theory of evolution, which was published in 1859.
Gutenberg Bible – Named after German Johannes Gutenberg (circa 1400–1486), who invented the first printing press in Europe that used moveable metal type, this Latin Bible was completed around 1455. A fascinating story is told through the Bible's detailed, ornate illuminations, which include mythical beasts, prophets, towers and abstract art.
Wax cylinder recording of 'Cradle Song Medley' – Wax cylinders were developed in the 1870s – the earliest commercial medium for recording and reproducing sound. This example, dating from around 1909, was recorded by 'Strathspey King' James Scott Skinner, one of Scotland's most famous fiddle players, who exemplifies the music traditions of the North-East.
Archive of Isobel Wylie Hutchison – The trailblazing Scots explorer and botanist shunned the conventions and expectations of society by setting off to explore the world's most rough and ruthless terrains – and doing so solo. Between 1927 and 1936, Hutchison (1889–1982) travelled across Greenland, the northern coast of Alaska and Arctic Canada, describing the beauty of what she saw in poems, prose and paintings. She also filmed some of the earliest documentary footage.
Pont map – Pioneering mapmaker Timothy Pont (circa 1565–1614) created the first detailed maps of Scotland between 1583 and 1614. His maps became the prominent source material for Scotland's first atlas, produced by Joan Blaeu (1596–1673) in Amsterdam in 1654. The map shows the Clyde and Forth rivers, and prominent towns named include Stirling and Falkirk.
Wheel bookbinding – Wheel and herringbone bindings are two of Scotland's most distinctive bookbinding styles. The wheel style came into use by the mid-1720s and was based on the fan shape that was popular in European bindings at that time. Bookbindings of the 17th and 18th centuries feature gold leaf on leather, often with intricate patterns – and these are of exquisite quality.
With special thanks to funders the Garfield Weston Foundation, the Hugh Fraser Foundation, Sir Boyd Tunnock, Dr Jeffrey Jay, Michael A Lampert.
Conservation and digitisation
Unlocking Our Sound Heritage
This project, which was based at Kelvin Hall in Glasgow, involved digitising at-risk audio recordings, cataloguing them and aiming to clear rights for online access and reuse. Engagement activities raised the profile of sound archives with both public and professional audiences.
The project team preserved access to more than 8,000 recordings from 15 organisations across Scotland, which had been inaccessible due to the fragility of the format and age of the playback equipment. We invited new audiences to listen to and be inspired by the recordings, establishing a tangible and relevant connection between people and their heritage through sounds.
Google Books project
We entered a partnership with Google in November 2019 to allow Library collections to be digitised at their scanning centre in Munich. This project had been delayed by Covid and Brexit but the first shipment is under way. The partnership will deliver free online access to 100,000 pre-1900 books and provides the equivalent value of £3 million of in-house digitisation work.
Data Security
We have been certified by CoreTrustSeal – a certification that promotes sustainable and trustworthy data infrastructures – and we are now internationally recognised as a Trustworthy Data Repository. Certification gives users and depositors confidence that we are a responsible custodian of digital objects. One reviewer said the Library's submission was "one of the best applications I have ever read".
Creating better access to our digital collections
The Digital Asset Management System (DAMS) project is improving the way we collect, safeguard and provide access to digital collections and archived business records. We concluded a benchmarking phase against international organisations in spring 2021. In October we formed a five-person, cross-functional team to develop the DAMS project.
The year in numbers
2,030,789 additions to our collections
44,993 hidden collections catalogued
26,740 items from our collections digitised
116,564 bibliographic records created
505,134 records upgraded for ease of access
14,000 exhibition visitors
20,000 reading room visits
6.5 to 7 million website users
44 online events
3,381 attended online events from 74 countries