Maria Castrillo and Kevin Halliwell explain to Allan Burnett why leaving Scotland could be both a traumatic and exciting experience. This article originally appeared in 'Discover NLS' issue 12.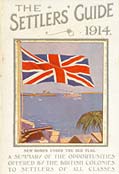 Settlers' Guide, 1914.
The story of 13-year-old Scottish emigrant Peter Williamson sounds as if it was ripped from the pages of a Robert Louis Stevenson adventure.
Kidnapped from Aberdeen harbour in 1743, Williamson was shipwrecked off the coast of America, saved from drowning by his captors and sold into slavery. Freed years later, he set about turning his rags to riches. He married a wealthy heiress but was captured again by Cherokees, who used him as a pack horse while they went around scalping European settlers. Set free yet again, Williamson was wounded in battle and taken POW by the French army, before being shipped back to Britain in a prisoner exchange. He eventually set up a coffee house for lawyers in Edinburgh, and entertained his patrons by dressing up as a Native American and crying out the Cherokee war-whoop.
The barely believable yarn of Indian Peter, as Williamson became known, is absolutely true. And it is woven into the fabric of a new exhibition at NLS called 'The Original Export: Stories Of Scottish Emigration'. As exhibition curators Dr Maria Castrillo and Dr Kevin Halliwell explain, Williamson's kidnapping was not unique. There were scores of others like him, but most never made it back to Scotland.
Emigrants' letters and journals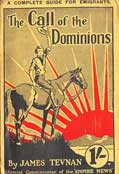 Emigrant guide.
Williamson published an account of his experiences, a copy of which is held by NLS, before successfully suing the Provost of Aberdeen for his ordeal. The trial implicated the city hierarchy in a vast people-trafficking operation that saw hundreds of boys in the Aberdeen area abducted for the slave trade in the 1740s - precisely the moment when the Scottish economy took off on the back of a booming import and export market, and was in need of cheap labour.
'Like Williamson, many Scottish emigrants were literate,' says Castrillo, 'and had the writing skills to record their experiences.' Halliwell adds: 'We realised that the really personal, interesting stuff is actually in the content of the hand-written letters that emigrants wrote. We have wonderful holdings of Scottish emigrants' correspondence. So we've tried to make this the core of the exhibition - very personal stories told through letters.
We've also tried to get away from an old, very straightforward object-based exhibition. Instead, we pull out the actual content, because it's the content that matters.'
Multimedia exhibition brings stories to life
To bring to life this correspondence, most of which relates to the 19th century because it witnessed the bulk of Scottish emigration, the exhibition will take full advantage of multimedia technology. Castrillo adds: 'We will have audio presentations that quote from the letters, as well as facsimiles of original letters, photographs and printed material.' When the emigrants were unable to record their experiences themselves the exhibition has to rely on printed record instead. And the reason why no personal account of an emigrant's experience remains can sometimes be chilling. Halliwell explains: 'We have a broadside account of a sailboat that went all the way across the Atlantic to Canada. They reached Quebec and from there they were going to Montreal but they never made it. The boat caught fire and 300 people died.'
Exploring myths about emigration
In taking a new approach to a familiar subject, the exhibition also aims to explode a few myths and misconceptions about Scottish emigration. Visitors will be invited to question the common perception that Scottish emigrants tended to be impoverished victims of the Highland Clearances, forcibly evicted from their homes and compelled to cross the ocean, never to return. Castrillo adds: 'We are trying to move away from the past emphasis on the Highland Clearances as a reason for emigration, and instead show a wider variety of the Scottish people who emigrated and the places they went to.'
A better life and more money
Among the emigrants featured in the exhibition are George Anderson, a shepherd from near Ratho, who went first to the Falkland Islands and then on to Patagonia in mainland Argentina. Another was Peter Hastie, a shopkeeper from Edinburgh who strived to better himself by emigrating to New York, where he eventually became a successful and contented civil engineer in the city water works.
Just as there were those who emigrated with a determination to work hard for a new life, equally there were those who left home expecting to make their fortunes quickly. 'One of the personal stories we are focusing on is about John Salmond, a Scotsman who was working briefly in the New Zealand goldfields in 1861. The discovery of gold in various parts of the world in the mid-19th century attracted many Scots to "the diggings",' reveals Halliwell. 'It is clear that the attraction of that was making a lot of money for very little work.' Adds Castrillo: 'Another emigrant refers to the gold digging as "a lottery". He expects that he will win very quickly and then return to Scotland with his fortune.'
Promoting life in the colonies
People were often tempted to emigrate by the rosy picture painted in emigration brochures, a picture frequently at odds with the truth. Halliwell explains: 'The more territories the British Empire gained, the more people it needed to hold on to them. So in these colonial prospectuses, there is seldom anything negative about the destination. The land is always fertile, and flowing with milk and honey, as long as the emigrant is prepared to work. The reality was often quite different, of course.'
Emigrant destinations
It is well known that a large number of those who did decide to leave home went to North America and the British colonies. Less well appreciated is the fact that many also went to mainland Europe. Poland, nowadays a source of immigrants into Scotland, was once a popular destination for Scottish emigrants. Halliwell explains. 'There were Scottish emigrants in Poland seeking trading opportunities as early as the later Middle Ages. In the exhibition we will be displaying a map of Danzig (now Gdansk, Poland), from the early 18th century. It shows clearly two areas where Scottish migrants settled. One is called the "Scottish suburb" (Vorstadt Schottland) and the other is called "New Scotland", or Neu Schottland.'
Experiences with the natives
NLS's holdings, from which Halliwell and Castrillo have painstakingly selected materials for the exhibition, offer a compelling human drama with a cast of thousands. Each had a diverse response to the experience of being uprooted, particularly when it came to their sense of identity.
One fascinating example of how the emigrants' identity metamorphosed is to be found in the collection bequeathed by the family of George Anderson, the shepherd who went to Patagonia. 'We have a photograph of Anne MacDougall, George Anderson's wife, and her niece Nellie, in Patagonia,' says Castrillo. 'They are dressed in local Indian dress and are drinking mate, a traditional Argentine beverage. And they are wearing guanaco skins. It's an example of Scots assimilating some of the customs of the native population.'
Removing natives from the land
This assimilation was often taken a step further, with evidence of intermarriage throughout the North American fur trade, for example. The exhibition also acknowledges that such assimilation was often less than benign, as Halliwell explains. 'We have an illustration that shows "outgoing tenants", which means Indians being evicted from their land, to make way for "incoming tenants", which means Scottish settlers.'
Many emigrants were certainly prepared to subjugate or remove the natives upon their arrival, and were encouraged to do so by the British government. One such example is a 1928 publication called 'The Call Of The Dominions - A Complete Guide For Emigrants'. An advertisement for prospective emigrants to South Africa, the publication states that 'the predominance of the white races depends on the systematic introduction of new blood into South Africa'.
Emigrants return to Scotland
One of the most popular misconceptions is that emigrants generally went away, never to return. In fact, as Castrillo and Halliwell point out, many Scottish emigrants turned out to be sojourners, who stayed for a while, often for decades, only to return as soon as they had the means, or when conditions had improved at home. Even for those who did stay and put down permanent roots, the journey has now come full circle. This Year of Homecoming celebrates the fact that the descendants of long-ago Scottish emigrants are still returning, if only for a short while, often seeking a response to the question of why - why did my ancestor leave here in search of a new life, and what was the experience like? As this exhibition demonstrates, NLS is a great place to find some answers.
'The Original Export: Stories of Scottish Emigration' exhibition runs from 26 June - 11 October
---
The emigrant who returned
At the heart of The Original Export exhibition are several personal stories. Among them is that of Skye woman Flora MacDonald, famous for her role in helping Bonnie Prince Charlie escape Scotland after his defeat at the Battle of Culloden in 1746. In 1773, she emigrated with her husband, Allan MacDonald, to North Carolina. The couple bought a plantation and became cattle ranchers. When the American War of Independence broke out, the MacDonalds sided with the British colonial government against the rebels demanding independence, with Allan MacDonald leading a contingent of Scottish volunteers into battle. But things did not go well, as a memorial of her life states: 'Mrs Flora MacDonald being all this time in misery and sickness at home, being informed that her husband and friends were all killed or taken, contracted a severe fever, and was deeply oppressed.' Flora eventually returned to Scotland, being wounded en route in a skirmish with pirates when she refused to leave the deck. She died on Skye in 1790, aged 68.
---
Adventure on the high seas
With a copy of Byron's 'Don Juan' to hand, Jack Mackay scribbles down his thoughts on the night of 20 July, 1852. 'There are very few unmarried females on board, and out of the few I see nothing to take my fancy. '
A century and a half later, Mackay's feelings remain vivid. His handwritten diary is set to be one of the most thought-provoking exhibits in 'The Original Export'. Dr Maria Castrillo, one of the exhibition's curators, has been studying the journal in depth. 'He travelled from Glasgow to Australia in 1852. It's a complete account of the voyage from the moment he arrives in the emigrants' depot to the point when he disembarks. His daily observations of life on board are fascinating. Many entries illustrate his regret about leaving Scotland, but also reveal his determination to make the voyage.'
That determination remains despite Mackay's awareness of how fragile the life of the emigrant can be. When a young man dies after an illness, and is sent overboard with coals sewn into his trousers to drag his body to the seabed, Mackay is troubled by a sense that the dead man has disappeared without a trace. 'He was cast, may I say, into Oblivion. For instead of, as one would have thought, it being a ship of mourning, it was more like a night of rejoicing.'
Mackay survives, and his first impression of the New World is one of joy and relief. On 9 October, 1852, he observes 'a beautiful country covered with vegetation to the very water's edge'. What became of Mackay thereafter, and whether or not he found his fortune, remains a mystery.
See also:
Read the full Discover NLS issue 12 (PDF: 27 pages; 1.6 MB).