There is a legend that Leland Stanford, railroad magnate, horse owner and Governor of California, bet $25,000 that at some point in its movement all four feet of a trotting horse left the ground. Robert Betteridge describes the extraordinary way in which that bet was settled. This article originally appeared in 'Discover NLS' issue 11.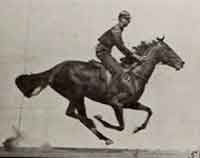 Horse in motion.
In the early 1870s debate raged across America on the subject of so-called 'unsupported transit', or the theory that all four of a horse's hooves would leave the ground when travelling at speed. To settle the matter scientifically, railroad magnate Leland Stanford hired English émigré Eadweard Muybridge to photograph one of his horses in motion.
Accomplished landscape photographer
Born Edward James Muggeridge in Kingston upon Thames in 1830, Muybridge followed the gold rush to California, settling in San Francisco in 1855. A passionate man, he would later shoot dead but be acquitted of murdering his wife's lover. Despite this bizarre diversion, he was still able to pursue what was to be an illustrious career.
In the 1860s he took up the art of photography, and by the end of the decade had built a reputation as an accomplished landscape photographer, accepting several commissions from the United States government.
Horse in motion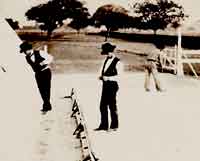 Palo Alto ranch.
In 1872, using a high-speed shutter and capturing just a silhouette against white sheets, Muybridge was able to secure images of Stanford's horse, Occident, with all four feet off the ground. These original pictures do not survive, but with this basic question answered Muybridge continued to work under Stanford's patronage, developing his techniques and further investigating the science of animal motion.
At Stanford's Palo Alto ranch, Muybridge captured images that would appear in 1881 as the privately published 'The Attitudes of Animals in Motion'. However, Muybridge was soon to split with Stanford over the latter's publication of 'The Horse in Motion', which used drawings of Muybridge's photographs but failed to give him the credit he was due.
Apparatus to capture movement
Continuing his work, Muybridge gained the backing of the University of Pennsylvania, where he was able to set up a dedicated apparatus to capture movement simultaneously from several angles. This work led to the publication of 'Animal Locomotion' in 1887.

Bird in flight.
It is clear to see from these images why Muybridge was so highly regarded in his day - and why he is widely considered to have had a profound influence on the evolution of cinema as we know it.
---
How Muybridge came to the Library
The Minutes of the Curators of the Advocates Library from 10 June 1890 record that 'The Keeper was authorised to purchase Muybridge's Animal Locomotion'. Thus the Edinburgh-based Advocates Library became one of only 35 institutions worldwide to purchase a complete set of all 781 plates, considering them 'a work of invaluable service'.
These volumes, along with other non-legal collections of the Advocates Library, were gifted to the nation in 1925 to form the nucleus of the National Library of Scotland.
---
Read on with NLS
'The Attitudes of Animals in Motion' (San Francisco: privately printed, 1881) [National Library of Scotland shelfmark: Dur.2508]
'Animal Locomotion' (Philadelphia: University of Pennsylvania, 1887) [NLS shelfmark: X.213.1-11]
'Descriptive Zoopraxography' (Philadelphia: University of Pennsylvania, 1893) [NLS shelfmark: Bd.11].
Read the full Discover NLS issue 11 (PDF: 27 pages; 2.3 MB).