If you'd like to meet Patrick Geddes, just take a stroll around Edinburgh. Olive Geddes tells Malcolm Tait that there was more to the man behind the buildings than bricks and mortar.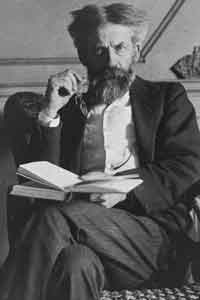 Patrick Geddes.
If Charles Darwin wrote to you and said: 'I have read several of your papers with very great interest, and I have formed, if you will permit me, a high opinion of your abilities', then the chances are you would be an eminent biologist. If Albert Einstein said of you: 'I have heard much praise from friends concerning his work and personality. All who know him admire and honour him highly', then you might expect yourself to be a renowned scientist.
But what if Nobel prizewinning poet and mystic Rabindranath Tagore stated that you had the 'power of an artist', and historian Lewis Mumford described you as 'a philosopher whose knowledge and wisdom put him on the level of an Aristotle'? Could you be just one person? Could you really warrant these apparently disconnected homages from such an array of luminaries?
You could, if you were Patrick Geddes. In fact, on the face of it, it seems strange today that such a polymath is principally known by modernity simply as 'the father of town planning'. How could Darwin, Einstein et al be such fans of a chap who knows how to manage traffic levels, and where the new supermarket should be built? To answer that question, we have to turn to Mexico in 1879.
A biologist of great promise
Still only in his mid-20s, Geddes had been sent to the central American country on a research mission. He'd come a long way from Ballater, Aberdeenshire, where he was born the son of a soldier in 1854 with no significant wealth or position. He'd had papers published by the Royal Society, and helped set up a zoological station at Stonehaven for Aberdeen University. He'd studied under T H Huxley, taken a course in botany, and written notable papers on insectivorous plants. Now he was tramping the world on behalf of the British Association for the Advancement of Science. As Darwin's testament shows, he was a biologist of great promise, and a glittering future awaited.
Then disaster struck. In Mexico, Geddes contracted an illness which made him blind. The condition was only temporary, but it left him struggling to see properly through his microscope. His eyesight, so invaluable for a career in the biological sciences, had let him down.
It's the kind of moment that might halt many an aspiring youth, but not Geddes. While recuperating from the illness, he started to think about the complex needs and relationships that biological organisms have for and with each other, and apply them to mankind's own impulses and requirements.
If a creature survives best in an environment most suited to it, then surely so do humans. And as humans have more of an ability to shape their own environment than most of the rest of nature, then shouldn't we be doing so to bring maximum stimuli to both body and mind?
Ideas for improving the human condition
His own mind on full power, Geddes jotted all these thoughts down in a series of 'thinking machines', diagrams that helped him record all the connections beginning to join up in his thoughts. 'This is a green world,' he would later write, 'with animals comparatively few and small, and all dependent on the leaves. By leaves we live. Some people have strange ideas that they live by money. They think energy is generated by the circulation of coins. Whereas the world is mainly a vast leaf colony, growing on and forming a leafy soil, not a mere mineral mass: we live not by the jingling of our coins, but by the fullness of our harvests.'
By the time Geddes left Mexico, and was back in Britain, he had started upon the all-consuming passion that was to fuel the rest of his life. Olive Geddes, who shares his surname by coincidence alone, is a Senior Curator in the Manuscript Collections Division at the National Library of Scotland, and oversees the Geddes collection. 'He was such an energetic man,' she says, 'always bursting with ideas for improving the human condition. Yet he wasn't one to simply make pronouncements from on high.
'He felt that to understand a community and how it worked, one had to immerse oneself in it. The James Court area of Edinburgh was a slum in his day, and he moved in to find out what life was like. In no time at all he was applying for permission from Edinburgh Town Council to improve conditions and had set up the Edinburgh Social Union.'
The importance of good planning
Examples of Geddes' work still abound in Edinburgh, but his enthusiasm for forming the bridge between biology and social science, between town and country, also took him all over the world. As the 19th century drew to a close, the war between Turkey and Armenia was spilling refugees across the eastern Mediterranean area. Shocked by their plight, Geddes spent a winter in Cyprus helping some of them to resettle.
He encouraged them to develop agricultural holdings, and build their own small industries, work that was to form the basis of a series of international exhibitions he would hold for the rest of his life on the importance of good planning. In 1925 he drew up plans for the restructuring of the city of Tel Aviv. He set up a publishing house to get more of his thoughts into print. In Montpellier, France, he even founded a school - the Collêge des Ecossais - to further this instruction.
'Think Global, Act Local'
Today, we think of anti-globalisation as a modern movement, a kickback against the growth of multinational companies like Starbucks and McDonald's, with voices like those of Michael Moore and George Monbiot leading the charge. Yet Geddes was there first. The phrase 'Think Global, Act Local' fitted his outlook perfectly. 'Everything I have done,' he said towards the end of his life, 'has been biocentric; for and in terms of life; whereas all the machinery of the state ignores life, when indeed it does not destroy it. The only thing that amazes me, therefore, as I look back over my experiences is that I was not caught and hung many years ago.'
Capital punishment was never really on the cards of course, but Geddes' work did have an effect on the establishment, so much so that aged 77 he was knighted. Mere weeks later, in 1932, the father of town planning died.
It never was about the ring roads and supermarket placements at all. In Geddes' hands, town planning was really a way of saying that social structure stems from the immediate environment. It's all about human ecology.
No wonder Darwin and Einstein liked him.
City of enlightenment
Edinburgh still bears the stamp of Geddes' vision for a place where the surroundings could improve our lives:
Ramsay Gardens.

Camera Obscura.

Riddles Court.

Lady Stair's Close.
Ramsay Gardens, where Patrick Geddes developed revolutionary ideas for both old housing and new.
Outlook Tower, also known as the Camera Obscura. Geddes used it as a tool to spread his ideas.
Riddles Court, partly renovated by Geddes to provide self governing housing for university students.
Lady Stair's Close, bought by the Earl of Rosebery for renovation on the recommendation of Patrick Geddes.
---
Discover the details behind the life and work of Geddes
The National Library of Scotland has a significant collection of Patrick Geddes' papers. Much of the material was presented to the Library in 1960 by his daughter, Lady Mears, but the collection's importance means that it continues to attract other related material.
Examples of the 'thinking machines', or diagrams, that Geddes used to formulate early thinking
Copies of town planning reports made during Geddes' time in India.
Photographs of scenes at the Collêge des Ecossais in Montpellier, France.
Letters from Charles Taylor, a student at the college, including one from the day the foundation stone was laid in 1928. It stated that Geddes, whom the student thought should be happy, was faced with discontented students unhappy about their accommodation.
Letters from luminaries such as Charles Darwin, John Ruskin, Sir Frank Mears and J Arthur Thompson.
---
Read on with NLS
Papers of Sir Patrick Geddes:

National Library of Scotland shelfmark: MSS.10501-10657
NLS shelfmark: MSS.19253-19287
NLS shelfmark: MSS.19994-19999
NLS shelfmark: MSS.21199-21205

Copies of Sir Patrick Geddes' Town Planning Reports: NLS shelfmark: Acc.12497
Copies of Charles Taylor's letters home from the Collêge des Ecossais, Montpellier: NLS shelfmark: Acc.10495
The Geddes papers are available for consultation in the Manuscripts Reading Room. For further information, email manuscripts@nls.uk
This article originally appeared in 'Discover NLS' magazine. Read the full Discover NLS issue 11 (PDF: 27 pages; 2.3 MB).