How do you fit an ever-growing collection of books, manuscripts and other objects into a finite space? NLS Trustee Willis Pickard investigates. This article appears in 'Discover NLS' issue 14.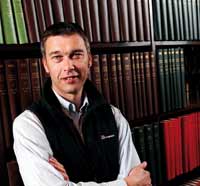 Steve Scott, Collection
Support Services Manager.
Thanks to acquisitions and legal deposit, there is a relentless cascade of books, journals and maps arriving at NLS.
Such is the rate, the Library requires an extra 3,000 metres of shelf space each year in its two Edinburgh buildings at George IV Bridge and Causewayside to accommodate the intake. Space is running out as the 16 million items in the collections continue to grow. The ideal solution would be to find another building, but that is unlikely to happen in the foreseeable future. So the priority is to use existing space more efficiently.
Better storage ideas
Fortunately Steve Scott, the Library's Collection Support Services Manager, has been aware of the problem for some years and with his colleagues has devised ways to store material more tightly without making it less accessible.
The problem first struck home when the fast-growing category of paperback books was about to overwhelm the area dedicated to it. The solution 'is not rocket science,' Steve says. 'It's just common sense - how can we best use the space?'
He points to a humble cardboard box, the kind in which books and journals are stored. In the past, material was put into boxes and placed on shelves regardless of how much spare space was left in the boxes and around the shelves. For the past five years that approach has been replaced by co-ordinated efforts to design better-shaped boxes and to put them on the shelves in such a way that there are no gaps around them, or between one row of boxes and the row behind it.
A project team led by one of Steve's managers, Jim Young, has worked with the Estates Department of the Library to identify areas where savings can be made. One problem was that the shelving at Causewayside differs from that at George IV Bridge. For an individual item, space saving may seem slight, hardly worth bothering about. But the scale of the Library's holdings is such that, multiplied, the space that can be clawed back goes a good way to reducing the strain on the shelves from the many thousands of items being added each year. Redesigning the shelves that store children's books in their weird and wonderful shapes has produced savings of up to 50%.
Lessons can be drawn from 'The Sun', too. The newspaper arrives every day, in its London and Scottish editions. One of the Library team noted that over the years its size had been reduced and it no longer took up all of its box. So the conservators have redesigned its housing, and a box-making machine turns out a bespoke product specially designed to preserve 'The Sun' for the nation.
Stored by shelf number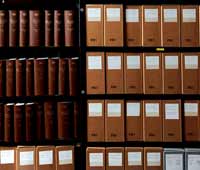 Since 2004, the space rationalisation project has saved over 6,000 metres, which is the equivalent of almost £2 million if new built space had been provided. Steve Scott says that previous ways of storing books and journals were no longer feasible: 'A line had to be drawn in the sand.'
One result is that books are not now shelved by subject classification. That may sound like library anathema, but Steve points out that no-one browses NLS stacks. Everyone, staff as well as readers, uses the online catalogues to pursue a line of enquiry. So, armed with the shelf number, the book fetchers can just as easily retrieve required material as if, say, all books about the Jacobites were standing shoulder to shoulder courtesy of a traditional classification scheme.
The rationalisation project is in one sense utilitarian but Steve and his team never forget that it is only part of a wider purpose: 'We are working in a warehouse but our aim is to preserve the collections and make them as accessible as possible.'
How the numbers stack up
It has been estimated that NLS requires around 17,000 metres of space to house the collections over the next five years.
If all this shelving were lined up end-to-end, it would stretch from the Library building at George IV Bridge out across the Firth of Forth and to the outskirts of Kirkcaldy.
To date, the space rationalisation project has saved 6,011 metres of shelving. This represents a real estate saving of -1.9 million.
In 2008 alone, the NLS collection grew by 3,167 metres of shelving space. That's enough space to hold 56,980 copies of 'War and Peace'.
---
Read the full Discover NLS issue 14 (PDF: 27 pages; 1.8 MB).