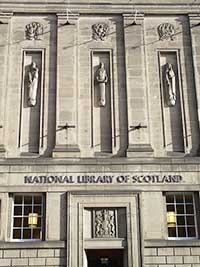 George IV Bridge building
Before the National Library of Scotland, there was the Library of the Faculty of Advocates.
Founded in the early 1680s, the Advocates Library in Edinburgh was formally opened in 1689. Under the 1710 Copyright Act it was given the legal right to claim a copy of every book published in Britain.
In the following centuries, the Library added books and manuscripts to the collections by purchase as well as legal deposit. This created a national library in all but name.
Given to the nation
By the 1920s, the upkeep of such a major collection was too much for a private body. With an endowment of £100,000 provided by Sir Alexander Grant of Forres, the library's contents were presented to the nation.
The National Library of Scotland was formally constituted by an Act of Parliament in 1925.
Sir Alexander Grant gave a further £100,000 — making his combined donations the equivalent of around £6 million today — for a new library building to be built on George IV Bridge. Government funding was secured which matched Sir Alexander's donation.
New buildings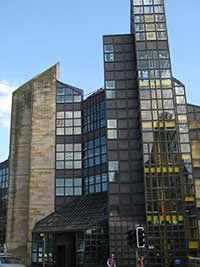 Causewayside building
Work on the new building was started in 1938, interrupted by the Second World War, and completed in 1956.
By the 1970s, room for the ever-expanding collections was running out, and it was obvious that other premises were needed.
The Causewayside Building opened in the south-side of Edinburgh in two phases, in 1989 and in 1995.
At a total cost of almost £50 million, it provided much-needed additional working space and storage facilities.
Partnership at Kelvin Hall
The National Library at Kelvin Hall opened in September 2016. The Library partners Glasgow Life and the University of Glasgow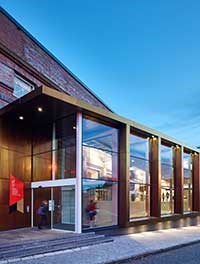 Kelvin Hall building
to create a centre of cultural excellence.
Kelvin Hall was originally built in 1918 but was destroyed by fire in 1925. In 1926-1927 it was rebuilt, and was intended to house large-scale exhibitions.
During the Second World War, Kelvin Hall was converted into a factory for barrage and convoy balloons, and in the 1950s-1970s the building was used as an exhibition centre and concert venue.
A further redevelopment in the 1980s included the creation of an International Sports Arena, and the Museum of Transport which moved location in 2012. Kelvin Hall was closed in August 2014 to allow the building to be redeveloped into the venue it is today.
Government funded
Since 1999, the Library has been answerable to the Scottish Parliament and funded by the Scottish Government.
It remains one of only six legal deposit libraries in the United Kingdom and Ireland, and is governed by a board of management.
Additional