The letter

D J Ross

W K Dickson
'Dear Sir,
I have pleasure in sending you a Reader's Ticket. I apologise for a somewhat makeshift ticket, — our new stationery is not yet complete. You are our first Reader under the new regime.'
So wrote William K Dickson, the first Librarian of the newly established National Library of Scotland, on 30 October 1925. The Library had been set up by an Act of Parliament on 7 August that year. It had formally come into being on 26 October and took over from the Advocates Library as Scotland's premier reference library.
The first reader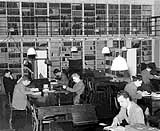 The old reading room
The first request to use the National Library's reading room was made by the Rev Donald J Ross, at that time a minister in Stirling.
His 'makeshift' ticket was replaced a short time later (possibly in November) with a properly printed, back-dated, version of reader's ticket number one. This gave him permission to read in the Library for three months.
Mr Dickson's letter and the two copies of the first ticket issued by the Library have been kindly donated to us by Mrs Fiona Stark, Mr Ross's granddaughter.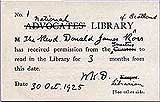 The temporary ticket.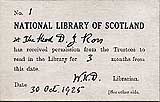 The final version.
Brief biographies
William K Dickson (1860-1949)
Born in Edinburgh, son of William Dickson of Mauricewood
MA from Edinburgh University
Admitted Advocate, 1887
Keeper of the Advocates' Library, 1906-1925
LLD from St Andrews University (1912)
Librarian of the National Library of Scotland, 1925-1931 (appointed 26 October 1925; resigned October 1931)
Donald James Ross (1884-1956)
Born in Inverness
MA in History from Aberdeen University
Worked as a journalist with the Dundee Courier for several years.
DD from Aberdeen University
First charge after ordination: Thurso, 1908-1914
Chaplain, 1914-1916
Later charges: Penang (1916-20), Stirling, West Calder, West Linton