Staff are key to the delivery of everything we want to achieve at the National Library of Scotland.
Training and development are essential in creating motivated and skilled people who have a clear sense of how they contribute to the Library's strategic priorities.
We employ approximately 320 staff covering a wide range of functions, roles and skills.
Meet some of the people who already work here and find out a little about what they do and why they enjoy working at the Library.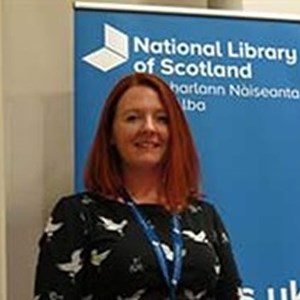 Jo Stevenson
Events Assistant
As a long-term reader at the National Library, I was really excited to begin work as a part-time Reference Services Assistant in 2018. I enjoyed being at the Library so much that, after finishing my PhD, I decided to pursue a career here and in autumn 2019 I moved to the Events team full-time.
My day-to-day role in Reference Services was highly varied as is my new role in Events. There are plenty of opportunities to take on additional responsibilities, make suggestions, and develop my own ideas. Highlights of working in References Services included working with the public and conducting basic research to assist remote enquirers, who regularly email, call, and write with questions on a huge range of topics. In Events, I work with colleagues in Public Programmes to keep our offerings educational, entertaining and relevant to our audiences of all ages and backgrounds. While I am new in the department, I look forward to developing and leading my own events soon.
During my short time here I have worked with colleagues from all areas of the Library on an exciting range of projects. I have also embraced new training opportunities, and even been involved in staff consultations for our next five-year strategy. These hugely enjoyable and interesting experiences demonstrate the wide range of prospects that working at the Library opens up to staff.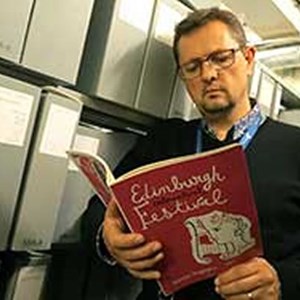 Trevor Thomson
General Collections Assistant
I am a member of the curatorial team responsible for 20th and 21st century material.
Originally I started working part-time in the Reference Services team while completing an Open University degree in literature and history and taking care of my small children. The job was interesting, flexible and reintroduced me to a world of adults!
I then switched roles, and now I work closely with the Library's collections — checking donations, looking for gaps in the collections and helping to identify material to buy. I also work on archiving of Scottish websites, which keeps me in touch with all sorts of aspects of Scottish cultural life. I studied Information and Library Science at Masters level, partly sponsored by the Library — an enormously helpful grounding in librarianship, and an excellent opportunity for personal and professional development.
Without question, the most rewarding aspect of working in the Library is engaging with the material — from football programmes to beautiful 20th-century first editions. It's a unique collection and a joy to work with. As are my colleagues, of course!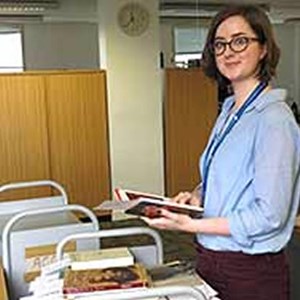 Helen Keenlyside
Senior Acquisitions Senior Acquisitions Librarian
I joined the Library in 2014, after working in acquisitions at a university library and completing a postgraduate diploma in Library and Information Studies. I was interested in working here because it involved working with a wide variety of material, and the fact that it was the National Library didn't hurt!
As a member of the Acquisitions team, my job involves adding modern — post-1900 — items in both print and digital format to the Library's collections. I liaise with our curators, booksellers and donors, and can be called upon to source all sorts of material.
An aspect of my role that I particularly enjoy is handling donations. We receive all sorts of donated books, journals and ephemera, which can be fascinating. My personal favourites have been collections of comics from the early 20th century.
It's exciting to be working in the Library at such a time of technological change, and being a part of the conversation as we strive to make our collections as accessible to our users as possible. I find my job challenging and rewarding, and have been able to take advantage of many development opportunities with the support of the Library, which have enabled me to increase my responsibilities and advance my career.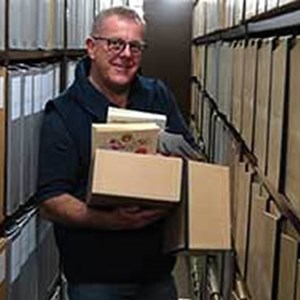 Tony Dixon
Collection Support Services Assistant
Before I joined the Library I worked night shifts for Continental tyres to fit in with family commitments. I then joined the Library 17 years ago as a Porter/Driver. After a year in the role I was promoted to a Collection Support Services Assistant. What attracted me to this role was the ability to work with the collections as I have a thirst for knowledge and passion for history.
My role involves retrieving and replacing requests for modern, rare and manuscript material. I also place new collections on the stacks and maintain and manage the space for our growing collections. The work can be challenging but rewarding when making the best use of the Library's storage systems.
I have had various training opportunities during my time in the Library to help me develop my skills including IT, first aid, communications and team-building as well as personal health and wellbeing. The job comes with flexible working hours which I appreciate for my work-life balance. It also has a good pension scheme and there are career progression opportunities throughout the Library.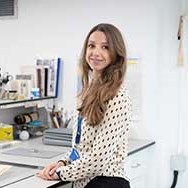 Mary Garner
Conservator
I am a trained Library and Archives Conservator. I gained a Masters in book and paper conservation after graduating from Edinburgh College of Art. My role is complex and varied. It can involve repairing damaged or fragile items, surveying collections, facilitating exhibitions and loans, monitoring collection environments and ensuring items are handled and stored safely. I was drawn to the profession as it combines both practical and academic skills. Conservation requires a steady hand and a good eye for detail and conservators are often required to make ethical decisions about appropriate treatments for historical objects.
The Library has an ambitious plan for one third of its collections to be available in digital format by 2025. My job helps ensure all material designated for digitisation is in good physical condition and can be imaged safely and legibly. A huge variety of material passes through my hands — from medieval manuscripts and rare books to modern maps and newspapers. It is exciting to be involved in a relatively new and constantly developing area of work.
I am particularly interested in the democratisation of information through technology and how conservation and digitisation can promote access to a much broader audience. Working as a Conservator in the Library's Collections Care team allows me to assist this goal, while preserving the collections for years to come.