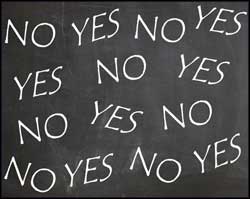 The Scottish Independence Referendum 2014 Collection at the National Library of Scotland is a unique and valuable resource that is growing larger each week.
Being built up over the next few years, it is intended to be unbiased, representative and inclusive of the varied and often complex angles surrounding the Scottish independence debate.
What is in the collection
The referendum collection includes books, reports, serials, and ephemeral material such as flyers, leaflets, etc., as well as websites, moving image, sound and archival material.
Much of what we want to add to this collection is being deposited with us now, in the wake of the referendum held in Scotland on 18 September 2014. We continue to collect, and will soon be able to offer you access to more material:
Publications in print and digital format
Moving images
Sound
Websites and social media streams
Archives.
Guidance on searching Library resources
There are different Library resources you can use online to search for material related to the Scottish Independence Referendum 2014:
Library Search
Legal deposit Web Archive
Moving Image Archive
Guide to Manuscript Collections, which has inventories of recent manuscript accessions.
Searching with Library Search
In Library Search you will find records for printed material we have that relate to the referendum.
At the moment the information covers books, reports, serials, and ephemeral material such as flyers, leaflets, etc. Some digital material is also available in Library Search.
Search tips
There are a variety of ways to find referendum-related material using Library Search. Most of what is searchable is published — as opposed to archives and manuscripts that are unpublished — and may be in print or digital format. Some items have been given a specific reference to make them easier to find.
In the Advanced Search, after selecting 'Library Collections' as the 'Search Scope', try selecting 'title' from the drop down box. Then type 'Scottish Independence Referendum 2014 Collection' in the search box. This should give you a growing number of hits for material in different formats.
You can also search for 'Scottish Independence Referendum' material using subject searches and combinations of keywords in the Advanced Search.
For example, if you choose 'subject' from the drop down box, then type in one of these phrases, you should find more material that may be of interest:
Referendum-Scotland
Self-determination
National-Scotland
Home rule-Scotland
Decentralisation in government-Great Britain
Scotland-relations-England
England-relations-Scotland.
Other kinds of material — archives, moving image and sound, for example — will be made available when it is possible to do so.
Archived websites
View websites collected during and after the referendum via the Library's collection in the UK Web Archive.
This publically available resource contains a number of creative responses to the referendum debate, national campaigning groups, sites of MSPs, Members of Parliament and local authorities.
A larger collection of archived referendum websites is available on Library premises. 
Manuscript material
We add PDF inventories of archival material to the 'Guide to Manuscript Collections' as they become available.
The find archived referendum material add the phrase 'Scottish Independence Referendum' in the 'Search guide titles' box on the manuscript collections guide page.
At the moment there are only a few inventories, but the number will grow over the next year as more archival material enters the collection.
The collecting project at the National Library
The Scottish Independence Referendum 2014 Collection is being developed through a two-year project at at the National Library of Scotland.
Running from 2014-2016, the project aims are to collect, catalogue and make accessible as much of the referendum material as possible.
For an overview of what we are trying to achieve with this project, see our statement of collecting priorities (PDF) (50 KB: 4 pages).
Archive for a momentous occasion
It has been widely acknowledged that the 2014 referendum was a major event in Scottish political and cultural life.
As Scotland's legal deposit library, we play a key role in collecting, preserving and providing access to the physical and digital publications relating to such significant events.
The project will build on the Library's world-class collections of earlier Scottish independence and home rule campaigns, to create a dedicated archive for this momentous occasion in Scottish history.
Contact us
For further information about the independence referendum collection and the collecting project at the Library, please email manuscripts@nls.uk.
Help us collect the referendum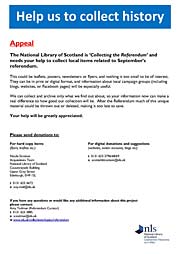 Over the next few years we will be concentrating on collecting many different kinds of material from different sources. In essence we want to collect everything —
From the largest dossier to the smallest stamp
From official publications to jocular musings, both political and non-partisan.
We are looking for local items related to the 2014 Scottish Independence Referendum, such as:
Leaflets, posters, newsletters or flyers — and nothing is too small to be of interest
Printed or digital material
Information about local campaign groups — including blogs, websites, or Facebook pages — will be especially useful.
We can only collect what we can find out about so your information now could make a real difference to our collections. After the independence referendum much of this material could be thrown out or deleted, making it too late to save.
Your help will be greatly appreciated!
Download our appeal flyer PDF (87 KB; 2 pages) — and feel free to send it to your Scottish contacts so that they can contribute too. We want the collection to represent the widest geographical spread of Scotland that we can.