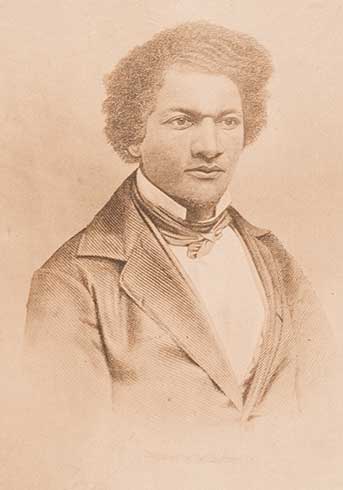 Frederick Douglass by John Buttre, 1853

Frederick Douglass (1818-1895) was born into slavery in the United States of America, but escaped in 1838, aged 20. He devoted his life to telling the 'the story of the slave' and campaigning for the end of slavery.
Douglass went on to become the USA's most famous anti-slavery author and freedom-fighter.
In 1845 he published his first autobiography, 'Narrative of the life of Frederick Douglass, An American Slave' — an instant bestseller.
Fearing for his safety, after naming his white slave-owners in the book, Douglass fled to Britain and began an abolitionist tour of the country. He visited Edinburgh in 1846.
See also the 'Send back that money' ballad.
'Strike for Freedom'
Past display: The 'Strike for Freedom' display at the Library in 2018-2019 featured manuscripts and photographs of Frederick Douglass and his family. The exhibits charted the campaign against slavery in the midst of the American Civil War.