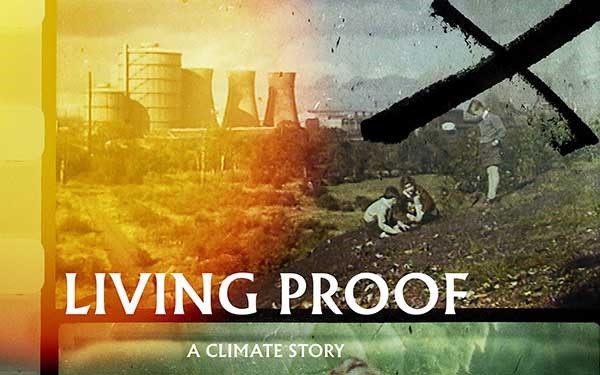 'Living Proof' is a new touring film that explores our historic relationship to the causes of the climate crisis. It invites viewers to revisit the promises of the past and consider how they relate to our future on this planet.
This feature-length documentary frames Scotland's history through the lens of the current debate and brings Scotland's evocative screen heritage to cinema audiences across the country. Featuring corporate voices, news reporters, protestors, and the general public, the footage spans the geography of Scotland and looks at the most treasured, most contested and most exploited parts of the country.
Directed by the National Library's Dr Emily Munro, 'Living Proof' portrays a nation shaped by demands for energy and economic growth and asks audiences: what needs to change? Is climate change rooted in our history? Can we break free from a boom and bust mentality? What can we do differently to ensure a healthy and sustainable future for generations to come?
'Living Proof' is a partnership project between the National Library of Scotland and Film Hub Scotland.
Watch online
View 'Living Proof' online for free at INDY on Demand and Cinema at Home Screen Argyll until 31 January.
INDY on Demand also hosts a pre-recorded interview with Emily Munro, which contains detailed insight into the filmmaking process and the narrative aims of the film.
A multimedia 'Living Proof' website enables audiences to learn more about the film through an interactive map, a podcast about Scotland's energy history, and a new sound mix of birdsong from the Scottish Ornithologists' Club. 
Screenings
'Living Proof' is showing at the following venues. To book tickets, contact the venues directly.
Screenings are available with captions and / or audio-description — check with your local venue for details.
Tuesday 12 October:
Wednesday 20 October and Thursday 21 October:
Friday 22 October:
Friday 29 October:
Saturday 30 October:
Coatbridge — Summerlee Museum
Comrie — Comrie Cinema Club.
Wednesday 3 November:
Aberdeen — The Belmont
Glasgow — Glasgow Film Theatre.
Thursday 4 November:
Aberdeen — The Belmont
Bo'ness — The Hippodrome
Brodick, Arran — The Screen Machine
Glasgow — Glasgow Film Theatre
Haddington — John Gray Centre
Kirkwall, Orkney — The Phoenix
St Andrews — The Byre.
Saturday 6 November:
Coatbridge - Summerlee Museum
Glasgow — SaltSpace Cooperative
Haddington — John Gray Centre.
Monday 8 November:
Girvan — Girvan Library
Tiree — Island Centre, Crossapol (Screen Argyll).
Wednesday 10 November:
Wigtown — Driftwood cinema
Thursday 11 November:
Steòrnabhagh / Stornoway — An Lanntair
Tranent — The Fraser Centre.
Sunday 14 November:
Dunoon — Dunoon Film Festival
Dundee — Dundee Contemporary Arts
North Berwick — Scottish Seabird Centre.
Monday 15 November:
Port Ìlein, Ìle / Port Ellen, Islay — Screen Machine.
Tuesday 16 November:
Dumfries — Robert Burns Centre.
Wednesday 17 November:
Friday 19 November:
Bogha Mòr, Ìle / Bowmore, Islay — Ionad Chaluim Chille Ìle / The Columba Centre (Screen Argyll).
Tuesday 23 November:
Cleann Loch Gilb / Lochgilphead — Screen Machine.
Friday 26 November:
Aberfeldy — Birks cinema
Cambuslang — Revolve Recycle.
Saturday 27 November:
Hawick — Heart of Hawick (Alchemy Film & Arts).
Thursday 2 December:
Benbecula — Lionacleit Library.
Saturday 4 December:
Comrie — Comrie Cinema Club.
Tuesday 7 December:
Glasgow — Gilmorehill Theatre Cinema, University of Glasgow.
Friday 7 January:
Peebles — Eastgate Theatre.