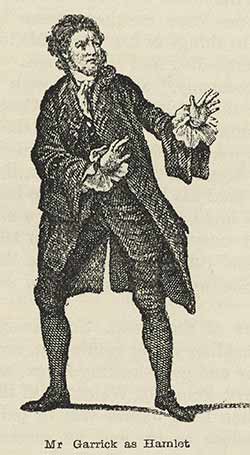 'Mr Garrick as Hamlet', from 'Their Majesties servants: Annals of the English stage' by John Doran and Robert Lowe, 1897. [Library shelfmark: NF.1478.b.2]
An influential and famous actor, David Garrick (1717-1799) shot to fame in 1741 as Richard III.
During his long career, he adapted and starred in many Shakespeare plays, including Macbeth, Hamlet, King Lear and Benedick.
In 1769, Garrick staged the Shakespeare Jubilee in Stratford-upon-Avon, celebrating 200 years since the playwright's birth. The event helped to cement William Shakespeare as England's national poet.
This image of David Garrick featured in our display, 'Playing Shakespeare: 400 years of great acting', at the Library from 17 March until 12 June 2016.