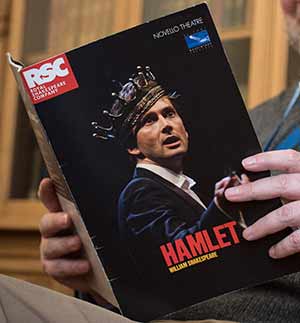 David Tennant in a 2008 production of 'Hamlet', on the cover of a Royal Shakespeare Company theatre programme.
[Library shelfmark: Mus.Box.250]
Now best known for playing the 10th Doctor Who, David Tennant (born 1971) debuted as Touchstone in 'As you like it', at the Royal Shakespeare Company in 1996.
After specialising in other comic Shakespeare roles such as Antipholus, he played Romeo before becoming very successful in modern roles.
Returning to Stratford and the Royal Shakespeare Company in 2008, Tennant has since played Hamlet, Berowne, and Richard II.
This image of David Tennant featured in our display, 'Playing Shakespeare: 400 years of great acting', at the Library from 17 March until 12 June 2016.