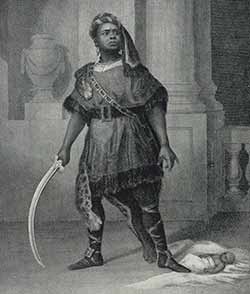 Ira Aldridge as Aaron in 'Titus Andronicus', from 'Ira Aldridge, the negro tragedian', published in 1958.
[Library shelfmark: NF.1329.d.25]
Born in New York City, Ira Aldridge (1807-1867) immigrated to the United Kingdom at age 17 to pursue his acting career. He found work in the provinces as Richard III, Shylock, King Lear, and Macbeth.
Although he often played parts wearing white make-up, Aldridge was the first black actor to perform in a major London theatre. He made his West End debut at Covent Garden in 1833, playing Othello.
Interest in Aldridge's life and career was rekindled by a 2012 play, 'Red velvet', written by Lolita Chakrabarti.
This image of Ira Aldridge featured in our display, 'Playing Shakespeare: 400 years of great acting', at the Library from 17 March until 12 June 2016.