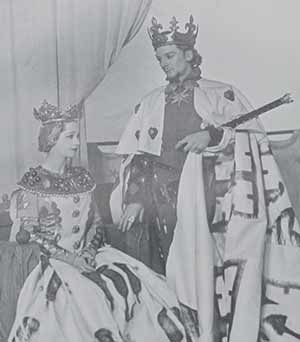 John Gielgud and Peggy Ashcroft in 'Richard II', at the Queen's Theatre, 1937. From 'Theatre world'.
[Library shelfmark P.64]
Famous for his lyrical voice and the musicality of his speech, John Gielgud (1904-2000) was ideally suited to Shakespeare's poetic roles.
He played Hamlet several times, and was also noted for Romeo, Mercutio, Richard II, Prospero, Benedick, Leontes and King Lear.
Gielgud's career spanned eight decades, from his first paid acting work in 1922, through to his Shakespeare stage farewell as Julius Caesar at the National Theatre in 1977. He played King Lear for the last time at age 90, in a 1994 BBC radio production.
This image of John Gielgud featured in our display, 'Playing Shakespeare: 400 years of great acting', at the Library from 17 March until 12 June 2016.