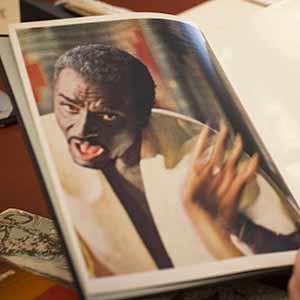 Laurence Olivier as Othello, in 1964's 'Othello: The National Theatre production'.
[Library shelfmark: NG.1365.d.7]/p>
Laurence Olivier (1907-1989) is most closely associated with key Shakespearean roles in the 20th century.
In 1935, John Gielgud staged 'Romeo and Juliet', and shared the alternating parts of Romeo and Mercutio with Olivier, showcasing Olivier's Shakespearean talent.
Olivier also played Hamlet, Macbeth, Iago, Richard III, Hotspur and King Lear — all before he was 40 years old.
This image of Laurence Olivier featured in our display, 'Playing Shakespeare: 400 years of great acting', at the Library from 17 March until 12 June 2016.