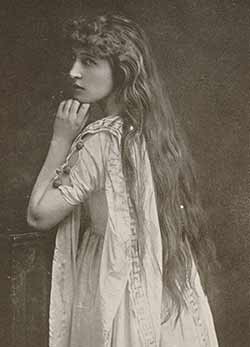 Lillie Langtry playing Rosalind in 'As you like it', 1880s. From 'The days that I knew', by Lillie Langtry.
[Library shelfmark: HP1.79.4494]
Lillie Langtry (1853-1929) was a famous society beauty, and also the mistress of both the future King Edward VII, and Prince Louis of Battenberg.
When her society reputation crashed, Langtry became an actress at the suggestion of her friend Oscar Wilde.
She became a very popular performer, and in Edinburgh a torchlight procession of students escorted her to the Caledonian Station.
This image of Lillie Langtry featured in our display, 'Playing Shakespeare: 400 years of great acting', at the Library from 17 March until 12 June 2016.