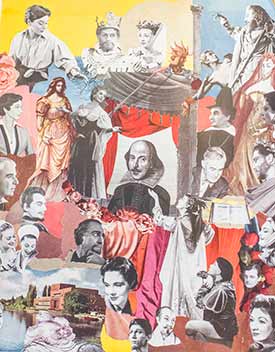 A montage of Stratford performances
from 1949-1956 at the Shakespeare
Memorial Theatre.
This montage of Stratford theatre performances was created as a Shakespeare Memorial Theatre souvenir in 1956. It features images from Shakespeare performances at the theatre, dating from 1949 to 1956.
Actors in the image include:
Harry Andrews
Peggy Ashcroft
Richard Burton
Vivien Leigh
Margaret Leighton
Anthony Quayle
Michael Redgrave
Diana Wynyard.
This item featured in our display, 'Playing Shakespeare: 400 years of great acting', at the Library from 17 March until 12 June 2016.