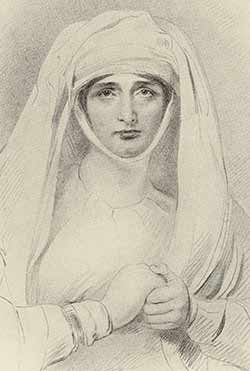 'Mrs Siddons' only portrait of Lady Macbeth' from 'The incomparable Siddons' by Mrs Clement Parsons, 1909.
[Library shelfmark: S.158.c.2]
Sarah Siddons (1755-1831) the most famous actress of her time, adored and celebrated by audiences, artists, and writers.
Siddons first appeared on the stage at age 11 as Ariel in 'The Tempest'. Starring as some of Shakespeare's most powerful female characters, she had a long and successful career.
Her most famous role was Lady Macbeth, and she also starred as Constance in 'King John', Volumnia in 'Coriolanus' and Queen Katherine in 'Henry VIII'.
This image of Sarah Siddons featured in our display, 'Playing Shakespeare: 400 years of great acting', at the Library from 17 March until 12 June 2016.