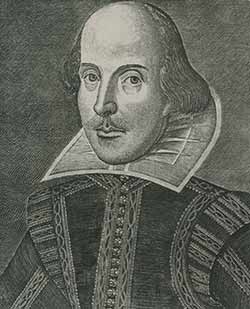 Engraving of William Shakespeare by Martin Droeshout, from the Second Quarto, published in 1632.
[Library shelfmark: RB.m.534]
As well as writing, William Shakespeare (1564-1616) may also have acted in some of his productions.
Though we know little of his acting career, the 1623 First Folio edition of Shakespeare plays lists 'the principal actors'. Top billing goes to Shakespeare himself.
It seems unlikely that he frequently starred in his own plays, but he may have acted for much of his life. Anecdotes suggest that he played the ghost of Hamlet's father.
This portrait of Shakespeare featured in our display, 'Playing Shakespeare: 400 years of great acting', at the Library from 17 March until 12 June 2016.