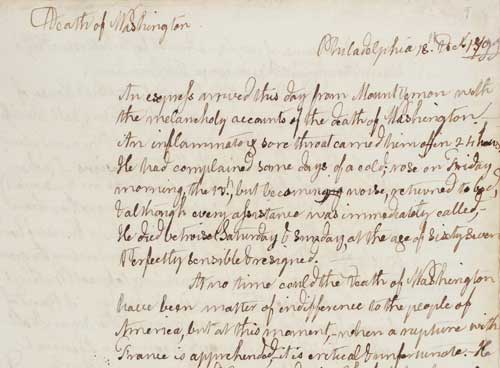 Extract from a diary page on the death of George Washington, 1799.
Henrietta Liston's journals provide many insights into post-revolution America. She records her observations on American society, landscapes, customs, and notably, politics.
Due to her husband Robert's diplomatic office, she met such distinguished figures as George Washington, Alexander Hamilton, and John Jay, all of whom she candidly described.
These diaries demonstrate the friendship that developed between the Washingtons and the Listons.
In her journal written in 1797 and 1799, Henrietta touchingly describes General Lee's funeral oration for George Washington and the 'melancholy visit' she paid to Martha Washington, who was in mourning for her husband. She writes of Washington's widow:
'… we found this excellent woman grieving incessantly. She repeatedly told me, during the few days we had it in our power to stay with her, that all comfort had fled with her husband, and that she waited anxiously her dissolution; and indeed it was evident that her health was fast declining and her heart breaking. We parted with much tenderness on all sides, never alass [sic]! to meet again.'
[NLS reference: MS.5698]
This item featured in our display about American independence, which ran from 4 July to 16 September 2012.