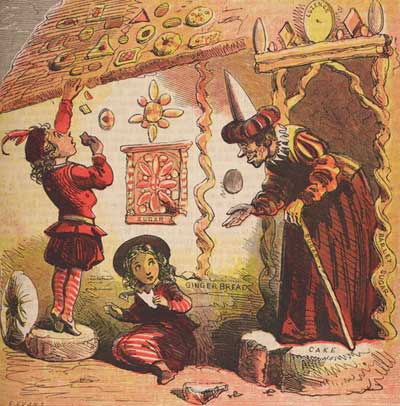 Illustration from 'Grimms' goblins' (London, 1861).
This illustration of 'Hansel and Gretel', from 'Grimms' goblins', shows the children at the gingerbread house, which here is called the 'cottage made of cakes'.
[NLS shelfmark: Mas.412]
Probably one of the most famous musical adaptations of a Grimm fairy tale is 'Hänsel and Gretel: A fairy opera'. Engelbert Humperdinck composed the music for the three-act opera by Adelheid Wette.
The story also inspired a transcription of the text into Pitman's shorthand for practising purposes. It was published in London in 1952.
Among more than 160 translations of the Grimm brothers' tales is one in Igbo, a Niger-Congo language spoken by the Igbo people in south-eastern Nigeria.
'Grimms' goblins', the Pitman 'Hansel and Gretel' and the Igbo volume featured in the 'Illustrating the Grimms' display at the National Library of Scotland, which ran from 19 September to 18 November 2012.