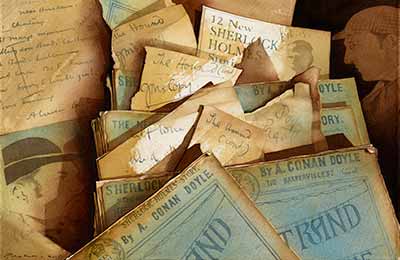 'The hound of the Baskervilles' painted by Hugh Buchanan.
Hugh Buchanan's watercolour shows the John Murray Archive's collection of 'The hound of the Baskervilles', which was serialised from August 1901 to April 1902 in 'The Strand' magazine.
When Murray's acquired Smith, Elder & Co. in 1917, Sir Arthur Conan Doyle became a John Murray author.
On display alongside Buchanan's watercolours was an undated letter from Conan Doyle to Murray.
This item featured in our display, 'Hugh Buchanan paints the John Murray Archive', at the Library from 25 June until 6 September 2015.