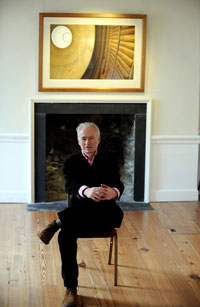 Working with the National Library of Scotland's John Murray Archive, Hugh Buchanan combed through artifacts from hundreds of years of publishing history.
The artist distilled these literary gems into 19 fascinating and beautiful paintings. The resulting watercolours were on show in the Library's 'Hugh Buchanan paints the John Murray Archive'.
Libraries and archives
Buchanan was born in Edinburgh in 1958. He has long been interested in architecture, libraries and books through his art, and studied drawing and painting at the Edinburgh College of Art.
In April 2013, he displayed a series of paintings of libraries and archives at the Historical Fiction Festival at Summerhall in Edinburgh.
Museums and galleries
Many of Buchanan's paintings are in the collections of renowned institutions such as the Victoria and Albert Museum, Edinburgh City Art Centre and the National Trust for Scotland.