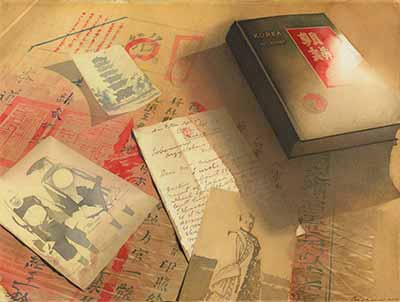 'Isabella Bird' painted by Hugh Buchanan.
Isabella Bird was an intrepid Victorian traveller. Hugh Buchanan has represented her final travels in Japan, China and Korea during the Sino-Japanese war.
Upon her death, Bird left all of her papers to her friend and publisher, John Murray. This included photographs from her travels and her rich correspondence.
Buchanan has painted Bird's photographs, along with her Korean passport, which was on display alongside the watercolours.
This item featured in our display, 'Hugh Buchanan paints the John Murray Archive', at the Library from 25 June until 6 September 2015.