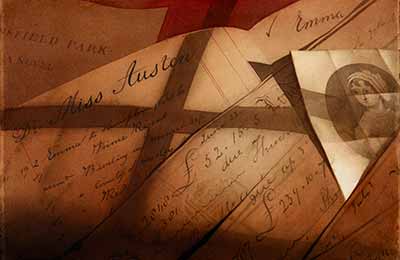 'Jane Austen and Emma' painted by Hugh Buchanan.
Published in 1816, Jane Austen's 'Emma' was the first novel written by a woman to be published by John Murray II. He went on to publish a second edition of 'Mansfield Park', along with 'Northanger Abbey' and 'Persuasion'.
Hugh Buchanan painted Jane Austen's cheques, from Murray to her brother after her early death in 1817. These items are part of the John Murray Archive's Austen collection, and were on display alongside Buchanan's paintings.
This item featured in our display, 'Hugh Buchanan paints the John Murray Archive', at the Library from 25 June until 6 September 2015.