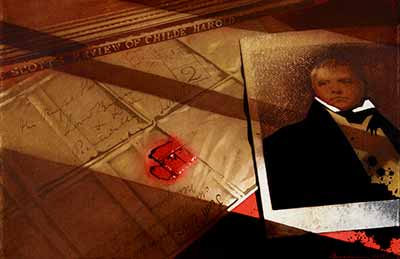 'Scott's review of Childe Harold' painted by Hugh Buchanan.
In the 19th century, Sir Walter Scott was one of the most popular authors worldwide. He was involved with the development of John Murray's 'The Quarterly Review', in which Scott wrote many articles and reviews.
Hugh Buchanan painted Scott's review of Lord Byron's 'Childe Harold's pilgrimage', along with a portrait of the author. In a second watercolour, Scott's relationship with money was explored in the combination of Scott's face on the modern £10 note arranged next to Murray's cheques to Scott in the 1830s.
Visitors to the display could also see Scott's cheque for £50, on show from the John Murray Archive.
This item featured in our display, 'Hugh Buchanan paints the John Murray Archive', at the Library from 25 June until 6 September 2015.