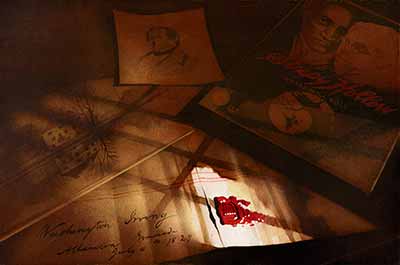 'Sleepy Hollow' painted by Hugh Buchanan.
Washington Irving was best known for his short stories 'The legend of Sleepy Hollow' and 'Rip Van Winkle'.
Philipsburg Manor house — included in Hugh Buchanan's 'Sleepy Hollow' painting — was thought to be the inspiration for the home of Katrina Van Tassel in 'Sleepy Hollow'. 
Alongside Buchanan's watercolour of Irving's papers, visitors to the display could also view Irving's copyright agreement from the John Murray Archive.
This item featured in our display, 'Hugh Buchanan paints the John Murray Archive', at the Library from 25 June until 6 September 2015.