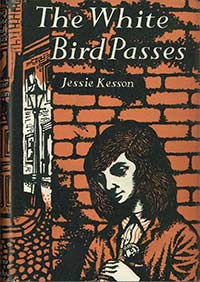 'The white bird passes',
by Jessie Kesson (1958).
Jessie Kesson's writing was first published in 'The People's Friend' in 1940.
She became a regular contributor of poems and prose to magazines, and drew praise from writers such as Neil Gunn, who championed Kesson's writing career.
Novels
Her first novel, 'The white bird passes' was published in 1958, and is considered Kesson's most popular novel. The story draws on the writer's impoverished childhood in north-east Scotland.
'Glitter of mica' followed in 1963, which Kesson regarded as her best book.
The writer's most famous work, 'Another time, another place', was both a novel and film which were released at the same time in 1983.
Radio
'Glitter of mica'
by Jessie Kesson (1963).
'... next to the printed word, I love radio and I'll tell you why. Because words mean so much to radio and words and the sound and meanin o them is my thing. I love radio.'
Kesson had a long relationship with BBC Radio. She created around 100 radio plays over a 45 year period, from 'Over the sea to Skye' in 1946, to her last play — 'Cold in Coventry' — broadcast in December 1991. She also worked on 'Woman's Hour' as a writer, contributor and producer.
Recognition
'When Johnny and me went to the premiere … Mike says "What dae ye think o the film ['Another time, another place'], Johnny?" Johnny says "That winna win nae prizes!" Now it's won about fourteen and awthing else!'
The film 'Another time, another place' (1983) won many awards, including a BAFTA for Phyllis Logan, the lead actress.
Kesson was awarded honorary doctorates by the universities of Dundee and Aberdeen in 1984 and 1988. This was very important to her, as she had been unable to attend university.
Scotland's Creative Writing Centre, Moniack Mhor, established the Jessie Kesson Fellowship in 2009, to honour the writer's life and work.
Items relating to Jessie Kesson's writing were on display in 'Jessie Kesson: "The sma perfect"', at the Library from 22 September until 25 November 2016.