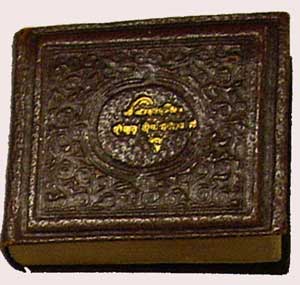 David Bryce's personal trial copy of the Bhagavad-Gita, with a blind-stamped morocco binding. (Glasgow: David Bryce & Son, 190-?) [NLS shelfmark: RB.s.2748].
The National Library has two copies of David Bryce's Bhagavad-Gita, both of them from Bryce's personal collection.
The Bhagavad-Gita, or 'Song of the Lord', is part of the sixth book of the Mahabharata, one of the two major Sanskrit epics of ancient India.
The first copy is an incomplete trial copy featuring a binding of blind-stamped brown morocco with the title in gold leaf in the centre of the top board.
Gold type copy
The other is a proof copy printed in gold type (Glasgow: David Bryce & Son, 190-?) [NLS shelfmark: RB.s.2747]. Regular copies of this publication are extremely rare and this gold type copy is most probably unique.
The trail of ownership is significant. The book was originally owned by David Bryce's granddaughter and then later acquired by Louis W Bondy (1910-1993), author of the classic one-volume reference source 'Miniature books: their history from the beginnings to the present day'.
Kordeh Avesta
Among sacred texts of other faiths that Bryce published was the 'Kordeh Avesta', the prayers and tenets of Zoroastrianism. (Glasgow, David Bryce & Son, 1905) [NLS shelfmark: FB.s.960].
These items feature in our miniature books display at the National Library of Scotland from 18 September to 17 November 2013.