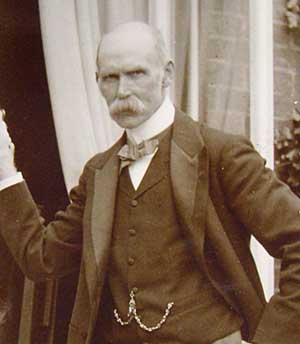 David Bryce of Glasgow (1845-1923) was one of the world's most prolific and successful makers of miniature books.
Bryce entered the book trade at the age of 17 when he was made a partner in his father's publishing house. He later became the sole proprietor when his father died in 1870.
It was shortly after this that he started producing the miniature books that were to make him famous.
Photo reduction process
Bryce embraced the latest advances in photolithography — a type of photo reduction using electroplates — to reduce larger volumes to the smallest imaginable size.
He also maintained strong connections with the printing houses associated with the universities of Glasgow and Oxford, which helped account for the clarity and legibility of the texts.
His association with Oxford University Press was especially fortunate, as from 1875 they owned the process to make the ultra-thin opaque sheets called 'India paper', which enabled the production of extremely small textblocks.
Over 40 books published
Bryce eventually published over 40 miniature titles, becoming a wealthy man and a prominent figure in Glasgow business life. In 1900 he owned the yacht 'Excelsior' and was a member of the prestigious Royal Clyde Yacht Club.
Unfortunately, the firm encountered financial difficulties around 1913 and the business was eventually sold to the firm of Gowans and Gray, who had shared the same building with them from around 1911.
Books produced by David Bryce featured in the miniature books display at the National Library of Scotland from 18 September to 17 November 2013.