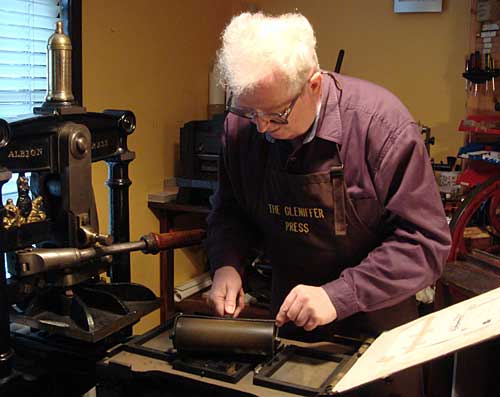 Ian Macdonald at the Gleniffer Press.
The Gleniffer Press of Paisley and Wigtown was founded in 1967 by Helen and Ian Macdonald as a hobby private press, producing home and business stationery.
By the early 1970s, the press became noted throughout the world for making miniature books and was active in this field until 2007, when it closed after 40 years. By then it had produced 57 different titles.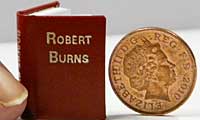 The Gleniffer Press's
last miniature book:
'Robert Burns', edited by
Ian Macdonald (Wigtown:
Gleniffer Press, 2007)
[NLS shelfmark FB.s.993].
In all 13,500 little books were reckoned to have been hand-bound during the life of the press.
The Macdonalds were among the founding members of the Miniature Book Society, which still thrives to this day. Helen and Ian were elected honorary members of the society on their retirement.
First new book of the millennium
The Gleniffer Press holds the distinction of releasing the first new book of the millennium.
This is a miniature edition of the New Testament, printed by Royal Licence, which was officially released at midnight on 31 December 1999.
The Bible is also thought to be the only King James Version issued by licence of Queen Elizabeth II during her reign as monarch in Scotland. Two special copies were bound in white leather and gifted to the first babies born in Paisley (a boy) and Wigtown (a girl).
Books produced by the Gleniffer Press featured in the miniature books display at the National Library of Scotland from 18 September to 17 November 2013.