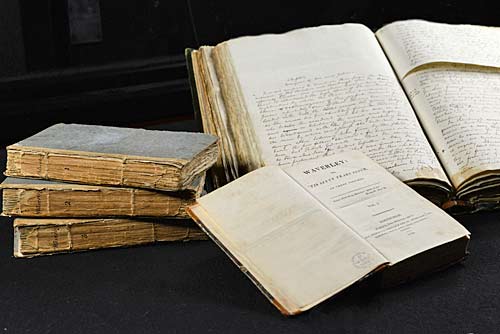 The original manuscript and first edition of 'Waverley,
or, "Tis sixty years since"', by Walter Scott (Edinburgh, 1814)
[Manuscript — NLS reference: Adv.MS.1.1.0; first edition
— NLS shelfmarks: F.6.f.2 and H.S.67-69].
'Waverley' is named after its hero, Edward Waverley, a young Englishman who arrives in Scotland just before the 1745 Jacobite Rising.
Set all over Britain, from London to the Highlands, the book brings to life characters on both sides of the 1745 Rising.
The quotation from Shakespeare's 'Henry IV' Part II on the title page hints at the divided loyalties of the hero and his choice between King George III and Bonnie Prince Charlie.
'Waverley' manuscript
The original manuscript of 'Waverley' shows Walter Scott the writer at work.
Dissatisfied with his original draft of the opening of this chapter, which takes Edward Waverley and other leading characters to Bonnie Prince Charlie's court at Edinburgh, Scott tore out the section and rewrote it on the left-hand blank page.
From the manuscript, it is clear that the novel was written in two stages. The surviving first section is on paper watermarked with the year '1805', although recent scholars have compiled evidence that suggests Scott must really have begun to work seriously on the novel a few years later, contradicting his own account. The chapter shown here is from the second section, on larger paper watermarked '1813'.
After hearing the 'unfavourable opinion' of a 'critical friend' about the first seven chapters of the novel, Scott put the manuscript aside in a writing desk which ended up in an attic at Abbotsford. He only rediscovered it by accident while looking in the desk for fishing lines and flies.
First published edition
Like most other novels of its day, 'Waverley' was originally published in a modest set of three volumes and with no illustrations.
One of the sets displayed here is in a binding known as 'publisher's boards', just as the volumes would have been originally sold.
The novel was published on 7 July 1814. 1000 copies were printed, and it sold for £1.1.0 (one pound and one shilling). Scott's publisher, Archibald Constable, wrote confidently that 'the demand for the book will be instantaneous & great'.
Scott's fascinating storytelling style and his romantic depiction of the Scottish Highlands caused a sensation. Constable's prediction that the book would be popular was proved true: more than 8,000 copies were produced in the following few years.
Walter Scott's name did not appear anywhere in the book, and he did not confirm authorship of the series of 28 books now known as 'the Waverley novels' until 1827.
The original manuscript and the first edition of the book featured in the display about Walter Scott's 'Waverley' at the National Library of Scotland from 10 September to 16 November 2014.