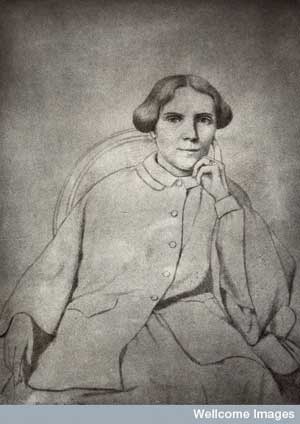 © Wellcome Library, London.
Amateur botanist and artist.
Born: Around 1700
Died: 1758.
From 1737-1739, Elizabeth Blackwell produced a series of 500 beautiful illustrations of plants, together with descriptions of their medicinal properties.
Encouraged by prominent physicians and apothecaries, she published the work in instalments as 'A curious herbal …', and it became a huge success.
Her herbal masterpiece was much praised at the time for its attention to detail, and even today, the botanical accuracy of her depictions is still admired.
Sketching in Chelsea Physic Garden
Born in Aberdeen, Elizabeth Blackwell and her husband, Alexander, moved to London where he set up a printing business. This failed, and Alexander was imprisoned as a debtor.
To support her family and raise money to free him, Elizabeth visited the Chelsea Physic Garden, and sketched plant specimens she found there.
Plants as medicinal remedy
With her husband's help, she accompanied the illustrations with descriptions of each plant's appearance and how it could be used as a medicinal remedy. In preparation for publication, she engraved the copper plates herself.
The completed volumes sold for about £5 and helped save her family from ruin.
Sadly, following his release from prison, Alexander became involved in dubious political activity in Sweden and was later executed for treason.
Items relating to Elizabeth Blackwell featured in our display 'Celebrating Scottish women of science', which ran at the National Library of Scotland from 1 March to 30 April 2013.