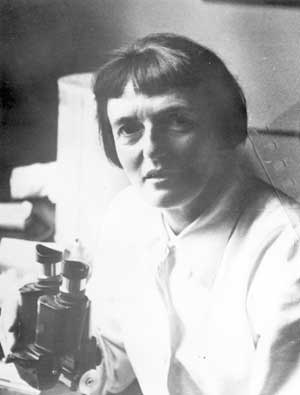 © The Royal Society.
Geneticist.
Born: 1899
Died: 1994
Lotte Auerbach became a pioneer in the study of genetic mutations, being one of the first scientists to understand the dangers of nuclear radiation.
She spent most of her working life in Edinburgh, She was awarded a DSc from Edinburgh University and won the Royal Society of Edinburgh Keith Prize. In 1949, she was made a Fellow of the Royal Society of Edinburgh, and she gained Fellowship of the Royal Society in 1967.
Institute of Animal Genetics
Born into a Jewish family, Lotte was educated in Berlin and Freiburg.
In 1933 she was dismissed from her teaching post, but managed to leave Germany and complete her PhD at the Institute of Animal Genetics at the University of Edinburgh.
During the Second World War, she furthered her knowledge of genetics at the institute through study and contacts with other scientists. Among her contacts was Hermann Joseph Müller, who later won a Nobel Prize for his work on mutations caused by x-ray radiation.
The effects of mustard gas
One of Lotte's experiments explored the effect of mustard gas on fruit flies, and she confirmed that it caused widespread genetic damage.
Lotte Auerbach gained recognition and respect, not least as the author of several books explaining genetics to the lay reader.
Items relating to Lotte Auerbach featured in our display 'Celebrating Scottish women of science', which ran at the National Library of Scotland from 1 March to 30 April 2013.