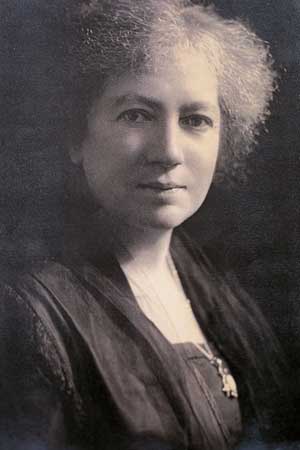 © M. Wachtler.
Geologist.
Born: 1864
Died: 1939
Maria Gordon specialised in the study of fossil corals.
She produced the definitive work on the geology of the Dolomites, and earned wide professional acclaim as well as the Lyell medal from the London Geological Society.
In 1935 she was honoured as a DBE for her work concerning the welfare of women.
PhD from Munich
Maria Gordon was born in Monymusk, Aberdeenshire. After education in Edinburgh and London, she continued her geological studies at the University of Munich and became the first woman to gain a PhD from there in 1900.
In the meantime she had married an Aberdeen physician, later having three children. This did not prevent her carrying on with her research.
Movements of Earth's crust
Over the years, she published more than 30 original papers on the geology of the South Tyrol region.
She was also was one of the first geologists to show that the limestone peaks there were formed by movements of the Earth's crust.
Campaigned for women's rights
Throughout much of her life, Maria Gordon was an active campaigner for women's rights, encouraging women to become politically involved.
Science remained her first passion and she has been called the most productive female field geologist of her era.
Items relating to Dame Maria Gordon featured in our display 'Celebrating Scottish women of science', which ran at the National Library of Scotland from 1 March to 30 April 2013.