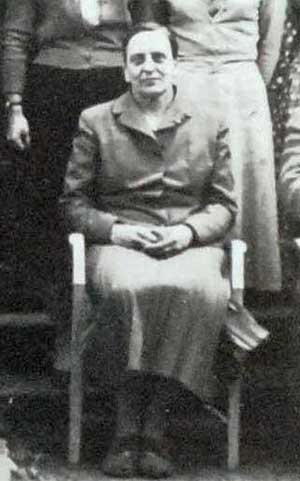 © School of Physics and Astronomy,
University of Edinburgh.
Physicist.
Born: 1903
Died: 1994
In the 1930s Marion Ross and Dr Arnold Beevers published their observations on a problematic anomaly they had discovered while working in crystallography.
The anomaly was caused by sodium ions present in the crystal structure of beta-alumina.
Paradoxically this anomaly has led to continuing interest in their work today. 'Beevers-Ross' and 'anti-Beevers-Ross' sites have important applications in the field of fast ion conductors.
X-ray physics and fluid flows
The career pursued by Marion Ross diverged into x-ray physics and into fluid flows, and she was the first Director of Edinburgh University's Fluid Dynamics Unit.
The university awarded her a Readership Emeritus, and she became one of the early female Fellows of the Royal Society of Edinburgh. A physics prize commemorates her name.
Underwater acoustics at Rosyth
Marion Ross was born in Edinburgh and graduated with honours in Mathematics and Natural Philosophy, later gaining a PhD. After a spell teaching, she took up a post in the Department of Physics at the University of Edinburgh.
In wartime, she worked on underwater acoustics for the Admiralty at Rosyth, and became Head of the Research Group.
Back in the university, Marion continued her research and teaching and instigated a number of successful careers. She maintained a lifelong interest in music, especially for the organ.
Items relating to Marion Ross featured in our display 'Celebrating Scottish women of science', which ran at the National Library of Scotland from 1 March to 30 April 2013.