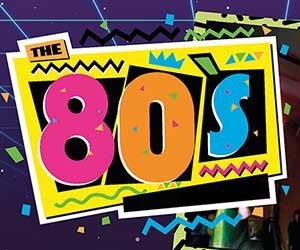 A summer of 1980s nostalgia is about to begin at the National Library of Scotland in Glasgow and Edinburgh.
From 23 July, an '80s takeover' week at the National Library at Kelvin Hall will offer visitors the chance to:
Wonder at analogue technology
Play arcade games, including Ms Pac Man and Space Invaders
Take part in family-friendly activities
Attend a computer games seminar and screenings of some the decade's much-loved Scottish films.
On Thursday 1 August, an '80s display opens in the Library's George IV Bridge building in Edinburgh. Among the texts and ephemera on show will be items relating to:
The Miners' Strike
The Cold War
Digital technology
Princess Diana
Boy George.
During the Edinburgh Festival Fringe (1-24 August), there will be an '80s video installation in George IV Bridge.
All events are free. Booking for the computer games seminar and film screenings is open now.
These activities support the Library's 'Back to the future: 1979-1989' website, featuring essays and videos on topics that dominated or emerged in the 1980s.
Read more in the '80s retrospective media release.
17 July 2019
Additional