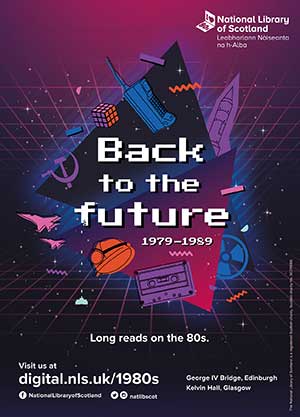 'Back to the future: 1979-1989', a website about the 1980s, has been launched by the National Library.
The site includes essays written about key events of the decade, some inspired by the extensive Library's collections of the period. Essayists include Kate Adie and many members of Library staff.
As well as the long reads, there is a 'Watch and Listen' section where visitors to the site can enjoy vintage 1980s videos selected from the Moving Image Archive.
Themes running through the website range from international relations, to popular culture and society. Further content will be added in each of the themes throughout the year.
'Back to the future: 1979-1989' forms part of the Library's digital collections and is launched 40 years after the historic 1979 UK election and 30 years since the fall of the Berlin Wall.
Accompanying the site is a newly digitised series of 12 volumes about Britain in the 1980s, Britain: an official handbook.
2 May 2019
Additional