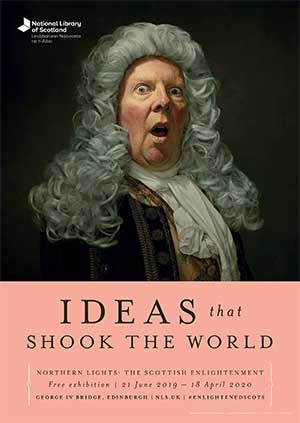 The Scottish Enlightenment, one of the most important intellectual eras in history, is explored in a new major Library exhibition.
'Northern Lights: The Scottish Enlightenment' promises to take visitors back to a time when received wisdom was questioned, and new ideas, discussions and debates were encouraged.
Treasured Library items are being shown, including a first edition of Adam Smith's 'The Wealth of Nations', a copy of David Hume's 'A Treatise of Human Nature', and a rare first edition of 'Encyclopaedia Britannica'.
Also going on display are letters and documents written by the Enlightenment 'literati', which reveal some of the original thinking, arguments and reasoning of the period and give a sense of its significant impact on the world.
Visitors are invited to the famous 18th-century epoch through seven themes: pre-Enlightenment Scotland, moral philosophy and religion, social science and academic innovation, language and literature, art and architecture, science and medicine and society and sociability.
The exhibition opens on Friday 21 June and runs until Saturday 18 April 2020.
Read more in the Enlightenment exhibition media release.
14 June 2019
Additional