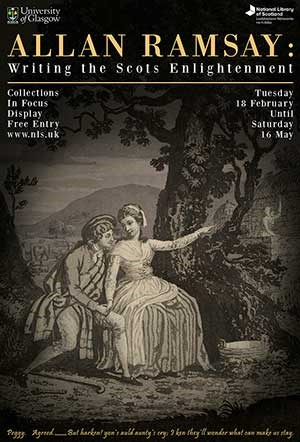 A display celebrating Scottish writer Allan Ramsay (1684-1758) opens today at the National Library of Scotland.
Allan Ramsay: Writing the Scots Enlightenment illustrates Ramsay's contributions to the Scottish Enlightenment.
Ramsay played a vital role in keeping the Scots language alive at a time when 'Scotticisms' were viewed by some as an embarrassment. A literary and cultural innovator, he established the first circulating library in Britain and argued the case for a theatre in Edinburgh. He also helped support his son, the artist Allan Ramsay (1713-1784).
A selection of written and printed works from the Library collections showcase Ramsay's talent for poetry and drama. Letters and personal items reflect his passions and influences.
The display includes:
A colour plan of Ramsay's house on Edinburgh's Castlehill
'Fair copy' manuscript of 'The Gentle Shepherd' — Ramsay's best-known work
Letters written by Ramsay to aid his son's travels to Italy to develop his artistic talent.
'Allan Ramsay: Writing the Scots Enlightenment' is open from Tuesday 18 February to Saturday 16 May.
18 February 2020
Additional