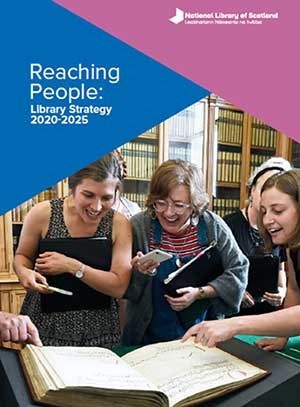 The National Library of Scotland launched its new strategy today (29 September).
'Reaching People: Library Strategy 2020-2025', identifies five key priorities for the next five years, with a strong focus on outstanding digital engagement with existing library users and new audiences. The priorities are:
Safeguarding collections
Improving access
Engaging audiences
Supporting learning, research and discovery
Developing the organisation.
Among its new objectives, the Library aims to offer greater personalisation of online services for Scottish residents by its centenary in 2025.
Publication of the strategy follows a record-breaking increase in the number of visits to the Library's websites and digital collections over the past six months.
Read more in the strategy news release.
29 September 2020
Additional