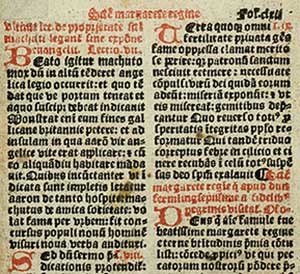 Detail from a Breviary page.
A liturgical book used in Glasgow 500 years ago is returning to the city for St Andrew's Day.
In a special one-day display, a copy of the Aberdeen Breviary will be on show at the National Library of Scotland at Kelvin Hall.
This book of daily devotions was used by local clergy at St Mungo's Cathedral in Glasgow in the early 1500s.
Printed in 1509 by Walter Chepman, the Aberdeen Breviary is the first substantial work printed in Scotland, and how it was put together reveals a lot about how Scottish printing developed.
It was the reason that King James IV granted a licence for the first printing house in 1507 to the Edinburgh-based Chepman and Myllar.
The Aberdeen Breviary was also the first printed book to collect the lives of St Andrew and other Scottish saints.
Bound at the end of the first volume of the breviary is an extra 16-page booklet — the only known copy of 'Compassio Beate Marie'.
To see these items of special significance, drop in to the Library's premises at Kelvin Hall between 10.00 and 16.00 on Saturday 30 November.
You can also view the Aberdeen Breviary and 'Compassio' volume online.
Read more in the Aberdeen Breviary display media release.
21 November 2019
Additional