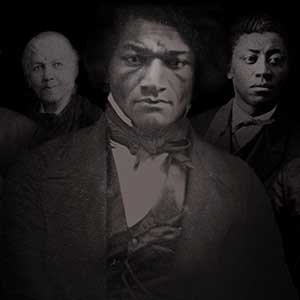 A new learning resource on African American freedom-fighters in the 19th century is now available online.
'Struggles for Liberty: African American Revolutionaries in the Atlantic World' explores the lifelong fight for social justice by anti-slavery activists, some of whom campaigned in Britain and Ireland.
Launched by the National Library of Scotland, the resource shares the stories of African American revolutionaries like Frederick Douglass, Moses Roper and Ida B. Wells-Barnett, through their own words and writing. It also features interactive maps and downloadable learning activities for history teachers, including activities mapped to the Curriculum for Excellence.
Drawing on the Library's collections and on material in archives in the US, 'Struggles for Liberty' complements the National Library's previous work on historical anti-slavery activism. In 2018, a display entitled 'Strike for freedom' highlighted Frederick Douglass's life and accomplishments. Visitors discovered that he and other activists travelled through Scotland campaigning for social justice and the end to slavery.
The new resource was created in collaboration with Dr Walter O Evans and the Arts and Humanities Research Council-funded University of Edinburgh project, 'Our Bondage Our Freedom'.
Read more in the 'Struggles for Liberty' news release
See also 'Scotland and the slave trade'
25 March 2021
Additional