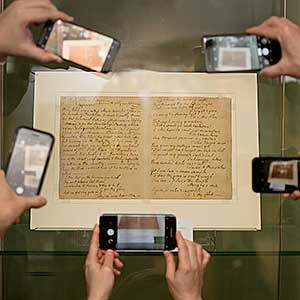 National Library visitors photographing
a Robert Burns manuscript.
Photograph by Angela Catlin.
The National Library of Scotland has launched an appeal to bring home some of Scotland's most important literary manuscripts.
Sir Walter Scott's handwritten manuscript for 'Rob Roy', and Robert Burns' earliest surviving poems in a 'Commonplace Book' are in a privately owned collection. If the appeal is successful, the manuscripts will return to Scotland.
Known as the Honresfield Library, the collection of 500 items also includes letters penned by the Brontë siblings, Jane Austen and Lord Tennyson.
Following its appearance on the open market via an auction, a consortium of organisations, headed by the Friends of the National Libraries, formed to save the collection. Scottish participants include the National Library, the National Trust, and Abbotsford (the home of Sir Walter Scott). The auction was paused to give the consortium the opportunity to fundraise and buy the collection without competition.
To learn more about the appeal, visit the 'Bring the Bards Home' page.