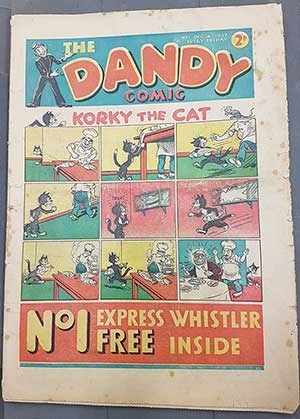 A crucial gap in the National Library of Scotland's collections has been filled by the first-ever copy of 'The Dandy'.
Published on 4 December 1937, the first edition of 'The Dandy Comic' was an instant success, selling over 480,000 copies.
Characters included Desperate Dan, Korky the Cat, and Keyhole Kate. One innovation it introduced was the concept of dialogue contained in speech bubbles, rather than as text below the illustrations.
Only around 20 copies of the first edition are known to be in existence.
Significant gaps of 'The Dandy' remain in the national collections, particularly from 1937 up to the 1970s. 
The Library is appealing to anyone who may have pre-1970 editions of comic — or of its sister publication, 'Beano — to consider adding them to the collections.
Read more in the 'Dandy' news release.
20 January 2020
Additional