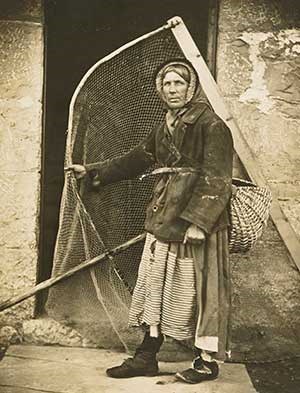 'Fish wife with net' albumen print, 1890s
from the MacKinnon Collection.
Photographs from the MacKinnon Collection are going on show at the National Library and the Scottish National Portrait Gallery.
The MacKinnon Collection comprises more than 14,000 photographs of Scotland spanning the 1840s to the mid-20th century. It was jointly acquired by the Library and the Scottish National Portrait Gallery in May 2018 with help from the National Lottery Heritage Fund, the Scottish Government and Art Fund.
Inspired by VisitScotland's Year of Coasts and Waters 2020, the Library's display is called 'At the Water's Edge'. It features photographs of striking Scottish landscapes, pictures of coastal communities, and scenes from industries such as shipbuilding.
The Scottish National Portrait Gallery's exhibition, 'Scotland's Photograph Album' offers a broader look back at varied aspects of Scottish life over a century. It showcases a range of images from the pioneering days of photography.
Both exhibitions are free, and open on Saturday 16 November. The Library's display runs until Saturday 15 February 2020 and the Scottish National Portrait Gallery exhibition runs until Sunday 16 February 2020.
Read more in the MacKinnon photographs displayed media release.
7 November 2019
Additional