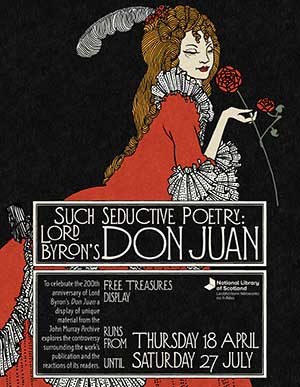 Lord Byron's 'Don Juan' one of the greatest poems of the 19th century is explored in a new Library display.
Byron began the work in Italy where he had fled to avoid scandal around his private life. It told the story of hero Don Juan's adventures and romances in exotic lands, yet it was provocative because it also mocked religion and society's values, and made fun of public figures.
Because of the controversy surrounding the poem, parts — cantos — I and II were published anonymously in July 1819 by John Murray II.
John Murray anticipated a reaction from readers, and compared publication to 'having fired a bomb' when he wrote to Byron the day after it was published.
Marking 200 years since this publication, 'Such seductive poetry' displays items from the John Murray Archive and our rare books collections.
Visitors can see letters written and received by Byron, as well as the manuscript of cantos I, II and V with his annotations and additions.
The display opens on Thursday 18 April and runs until Saturday 27 July.
Read more in the 'Don Juan' display media release.
12 April 2019
Additional